January Pet of the Month: Sig Norwell
The HF Lamp Post Pet of the Month has made its comeback for 2023! This month's pet of the month is Sig!!
The HF Lamp Post is bringing in the new year with a return of Pet of the Month! Started by alum Mia Paulson, a pet of a Holy Family student or faculty member is chosen every month to be featured. If you believe that you have an exciting or interesting pet, please fill out the form attached at the bottom of this story!
Introducing January's Pet of the Month is Sig Norwell, dog of Summer Norwell!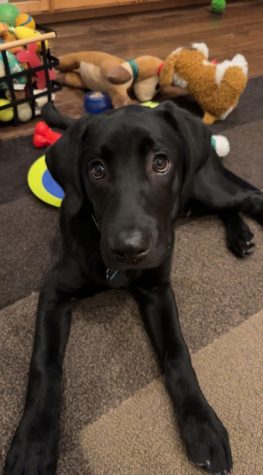 What is your dogs name and why/how did you chose this name?

Mr. Norwell has a job in law enforcement so Sig is a name derived from a type of firearm, the Sig Sauer.

What breed is your dog?

Sig is a Black Lab.

How old is your dog?

He is a sweet 4 and 1/2 month old pup.

What is your dog's favorite toy?

Sig's favorite toy is a stuffed lamb or a green squeaky ball that he loves to chase around.

Does your dog have any special quarks?

Sig has a strong liking to jumping up onto counters and tables.

What are the best characteristics of your dog?

Sig has the biggest paws you might ever see on a pup. He is also known to be a huge cuddle bug.

A funny story of your dog:

One day, the Norwell's were taking Sig for a snowy walk when all of a sudden there was a slight pull on the leash. Sig had run into a little patch of ice causing him to slip and land promptly on his head and into the snow.