Tiger Volleyball: The Final Stretch
The Tigers just fell short to the No. 3 ranked Windsor Wizards in a thrilling game that went to five sets last week. Letting a 2-1 lead slip from their hands, the Tigers saw the league title head back up the highway.
However, the Tigers aren't out of the picture. Regionals are Saturday and Holy Family will likely be a host when the brackets come out later today. Right now the Tigers sit at number 11, and the top 12 teams host. 
Going into this weekend the Tigers travelled to the mountains for round-robin tri with The Classical Academy and Evergreen. The Tigers rolled to two victories, sweeping the host Cougars in three and then taking out the Titans in four, giving them loads of momentum heading into the next weekend.  
After a rough start to the season and many people having doubts about Holy Family, they have really proven themselves to be a contender in 4A.
After starting 0-3 and now sitting at a comfortable 14-7, they have improved much throughout the season. They even showed themselves after Tuesday's night game against Windsor, which was easily winnable for the Tigers, who have just two seniors in the lineup — setter Megan Gonzales and outside hitter Morgan Anderson.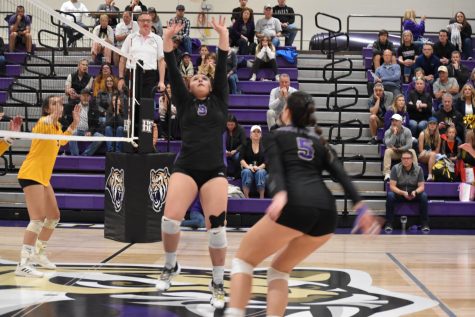 Now looking at the bigger picture, the regional tournament and hopefully state. The Tigers will likely host Palisade (a team they have already beaten this season and last year at state) and NCAC rival Mead. The games start on Saturday morning at 10 a.m. and the winner will advance to the state tournament the following week at the Denver Coliseum.