Teacher Feature: Mr. Jason Martinez
A new science teach has been brought to Holy Family. Mr. Jason Martinez was hired in the beginning of August, which is considered late for the HF hiring season. I had the opportunity to sit down and chat with Mr. Martinez about his personal life and his teaching life.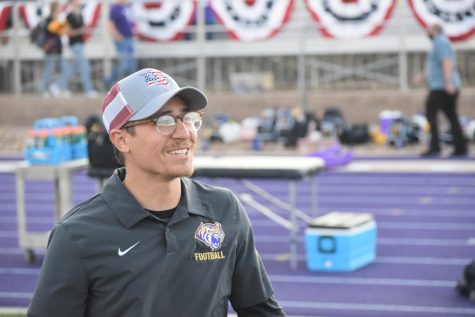 Mr. Martinez is a Holy Family alum. Martinez graduated in 2013 along with a few of his fellow colleagues, Coach Harris, Nurse Alicia, and Coach Nguyen. During his time at Holy Family, he was taught by Mrs. Marck, Mr. Comeuax, and Mr. Bishop, and more who he now also considers colleagues. As a student, Mr. Martinez was involved in football and  show choir his senior year. Mr. Martinez was known to be the class clown of his grade and was able to claim Mr. HFHS because of this.
Mr. Martinez comes to Holy Family from St. Anne's in Arvada where he was a science teacher. Mr. Martinez currently teaches multiple forensic classes, as well as a sophomore chemistry class. He enjoys science, particularly chemistry, but is very interested in teaching forensics this year because, "it is a challenge and forensics is new, challenging, and hands on." Mr. Martinez has some detailed experiences of forensics due to the fact that his father was a part of the Los Angeles Sheriffs Department for close to 20 years.
Mr. Martinez has an incredibly big family, his mother is one of eight children and his father, also one of eight. He rescues senior dogs with his wife. Mr. and Mrs. Martinez prefer older dogs over puppies in order to give them the best end of life care possible. They currently only have two dogs but possibly a third dog soon. Mr. Martinez's hobbies include painting, singing, and coaching football, specifically the defensive backs. Mr. Martinez is a Packers fan and also refused to learn how to ride a bike when he was a child. He finally acquired this skill at the age of 24 years old.
I asked Mr. Martinez any advice that he had for high school students, he responded by saying a very common answer, "Academically, get things done as soon as you can. Socially, be nice to everyone." Mr. Martinez will be a great addition to the school and the science department.