Tenth Year of Holy Family at March for Life
Holy Family alums were there too
In 1973, there was a court case titled Roe vs. Wade, which ultimately legalized abortion in the United States.  Now, close to 50 years later, people gather around Washington D.C. at the March for Life.  For those that don't know, the March for Life is a yearly rally/march against abortion.
In 2021, those that normally go to the March for Life, like Mr. David Good and Mr. Rich Morris were unable to go because of Covid.  However, with a brand new fresh start to the year, Holy Family staff and students were allowed to go to the March for Life.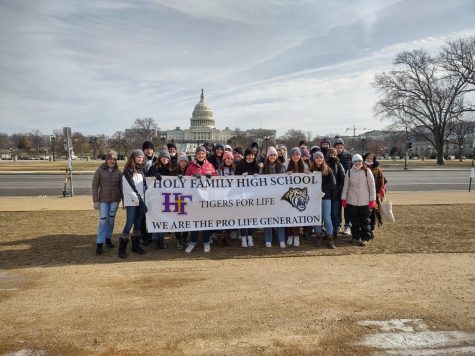 As a first time March for Life member, Father Joe Grady said, "There was a lot of energy, young people, enthusiasm, positive vibes at the march, which contributed to a greater overall atmosphere.  This was my first time going on the March for Life, and my first time in D.C.  Personally, it was awesome being in the capital, and it was meaningful to be able to be there.  The best idea I picked up was that the pro-life movement is not just ideological and reactionary, but is focused on the reality of what's going on, and communicating that central reality through positivity and mercy.  I would definitely suggest others to go."
Said March for Life veteran, Mr. Good: "Like every year, the March for Life was an amazing experience.  To be part of a group of 500,000 people all standing for the dignity of human life.  We only missed last year, 2021, but it was great to go back this year.  Rich Morris and I have been going for about 10 years, and it's great to be a part of it, and go with kids who have never gone to the march, or to D.C..  My favorite speaker was Father Mike Schmitz, he gave a  very powerful testimony to how one person's convictions can ripple through generations.  One of the best parts of it was running into Holy Family Alumni who were there.  I would always suggest more people to go because it's such an amazing experience."
While there are many differing views on this debate, both pro-abortion/pro-choice and pro-life, one is left to wonder if there is a correct stance to take?
As Catholics, and people who believe all beings have dignity, we are taught that the only applicable stance to take, is the stance of life.