Rock, Tumble, and Roll
Holy Family fall sports are coming to an end with a championship win in softball and volleyball and football in playoffs, but what about our fall athletes whose sports aren't offered at Holy Family? Gymnast Ava Silverstein just finished her sophomore season competing at the state meet with Niwot High School where they finished inside the top three in seven straight seasons. This is their second straight third-place finish since winning their sixth title in program history in 2018.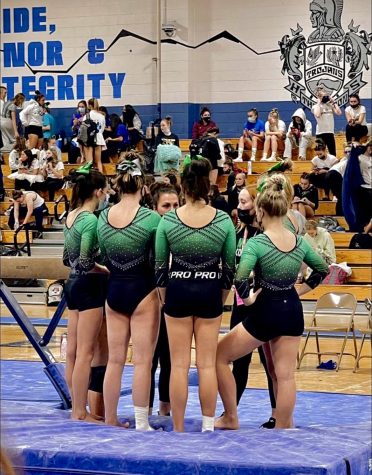 Silverstein has been a gymnast now for fourteen years, so it's so surprise she has had so much success this season. She initially started gymnastics when she was three years old following in her sisters' footsteps and has loved it ever since. "My favorite part about gymnastics is being with my coaches and team and watching all the pieces come together to see the team score go up."
This was shown at state as Silverstein and her team continually watched their scores take them to second as a team with a season-high of 178.125. She was one of the four girls on her team to place in the top twelve. She was in the top fifteen for beam on Day 1 so she competed in individual finals for beam on Day 2. Ava Silverstein ended 10th in bars (8.65) and 11th in beam (8.65) showing off her multiple skills in each event.
With her impressive performance during her sophomore year, she has so much potential in gymnastics for her following years and will hopefully continue to improve her finishing place. Although Silverstein is an incredible gymnast, she also plays tennis at Holy Family. Silverstein isn't looking to continue her athletic career in college or continue with JO gymnastics, she is just looking to continue to improve alongside her teammates and have fun! Silverstein can only get better from here and continue to showcase her talents!