Get Your Dancing Shoes on
Prom has been a tradition at American high schools for decades, and has always been seen as a major milestone of the high school experience.
Last year, the Class of 2020 got robbed of their senior prom, and were forced to face that sad reality. Additionally, last year the Class of 2021 missed out on our junior prom, so we have not even had the chance to attend a prom at all.
Now that the time is right around the corner, current seniors are left wondering if they are going to have this final dance, or if it is just one more thing COVID will steal from us. As a senior myself, prom seems to be the last piece of hope to hold on to, in order to try to grasp some sort of a normal senior year. 
At the beginning of the school year, a virtual homecoming was held for students at Holy Family. While the intentions in the virtual homecoming were in the right place, I think it is safe to say that it was a complete waste of time. If anyone actually "logged on," all you did was watch an amazing DJ dance around for 3 hours. This doesn't compare to getting dressed up with your friends, going to dinner, and then dancing till your feet hurt.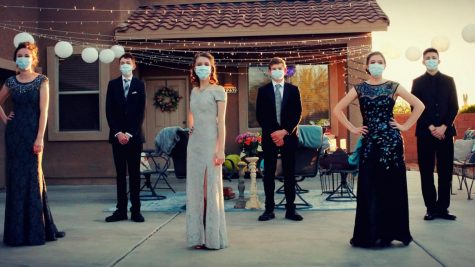 There have been many theories going around as to how a prom would be done if Holy Family were able to have one. Countless questions have come to mind on how a "Corona Prom" would look. Would it be outside? How many people could attend? Only seniors? Social distancing? When? Would it even be worth going with all the restrictions? These are just a few of the many questions going around the school right now as all juniors and seniors hope they will get a prom. 
Senior Sean Markham explains, "I'm no expert, but we should limit it to seniors or something like that, so there are fewer people there."
Sean brought up how if there should be a limit on the number of people allowed to attend prom, priority should be given to seniors. Sean also explained how, to be COVID safe, having fewer people in attendance may be the way to go. While I 100 percent agree that seniors should have the priority when it comes to prom, if there is a way to give the juniors their prom that will always be a plus. 
Another senior Emily Lindoerfer states, "I would say seniors only outside, and then that way if the seniors want outside guests they could have that too."
Emily brings up the debate on whether or not outside guests should (or even could) be allowed. Many people have friends that do not attend Holy Family, and may wish to get to spend this special time with them. Unfortunately, due to COVID, this would mean that people from all over Colorado would potentially be in attendance, possibly leading to more exposure and a more difficult time trying to track potential cases. 
Junior, Mia Paulson explains, "I would like to go to prom, I really like going to school dances so I really want to be able to go to prom especially because I did not get my homecoming." Mia expresses how juniors want to have the chance to go to their prom as well.
Lastly, senior Willa Koster explains, "I think we should wait until a little later in the year for when it gets really nice outside." I think it is safe to say that if Holy Family gets a prom this year, it is going to be taking place outside. While we have two amazing gyms, having a prom indoors would lead to many other safety regulations that may just be to hard to uphold at an event such as prom.
As much as students would love to have a prom this year, we are left wondering if it would even be worth attending. Depending on the restrictions, having a prom where you can't get within 6 feet of your friends may be worse than not having a prom at all. Would partners and friends be able to dance with each other? Would the potential outside weather ruin the experience? Would students be able to eat/drink while at the prom? Of course, masks being required at the prom would appear to be a given, but if a student's mask falls off while dancing would they be kicked out?

I know many members of the administration and Student Council have been working hard on ensuring that a prom is made possible for Holy Family students. Many rumors have been spreading around the school community in regards to where the prom may take place, and when it will happen. Students will be happy to hear that is has been confirmed that Holy Family has permission to host a prom. The most solid plan for prom going around is that the prom will be on our own Holy Family football field, and will be open to juniors and seniors. Unfortunately, I have not heard that outside guests will be allowed, but that is no reason not to take advantage of this great opportunity. The prom will likely take place on May 8th.
Additionally, rumors are going around that since we would not be allowed to have an After prom, the usual after prom activities would be going on during prom itself. This would possibly include games, and other various activities.
If COVID has taught us anything, it is to take advantage of every opportunity you have! So if juniors and seniors get a prom then I personally am telling you to GO TO IT! Grab a group of friends (not a date trust me its more fun) and get all dressed up and have a good time. Don't stay home like a loser. Even if you are a junior! For all we know in June the zombie apocalypse may start and you might not get this chance again!