Senior Report : Mckenna Spinuzzi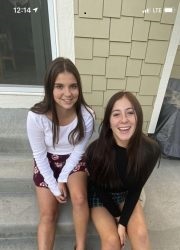 It's the last semester of senior year, everyone knows each other but, do we really? Today, I will be talking about Senior Mckenna Spinuzzi, also known as Master by her close friends. Mckenna's family is well known, due to her brother Nick and her socialite family. However there's another side to her that people don't truly know unless they are close. This is called the "master facade". With eloquent speaking, great at catching detail in the eye, and a party filled life, Mckenna Spinuzzi can take on the world with this mindset. Intelligent and courageous, she usually tackles anything in her way whether it's school or work.
Mckenna is able to make time for everyone. Once you know her, you truly find out that she can make plans with anyone in one day, making sure everyone feels involved and cared about. She can work for half the day and then hangout or take people to their house and appointments, she truly is a multitasker who cares for others. 
To be able to report on anyone, you have know them, or at least get to know them. I wasn't always close with Mckenna, it only took one class to change that. She has always been known as friendly, feisty (because she's short), and a social butterfly. In class, she was extremely funny and couldn't help but talk the whole time. That is what built our friendship, and many others. After a little bit of talking, you're able to get to know the about the Spinuzzi family.
Italian and fun, the Spinuzzi family is all about cooking. Whether it's treats or pasta, they make amazing food, their most famous dish is meatballs. Who would've known that one second you're talking to Mckenna in class, and the next you're helping the family make delicious pasta and meatballs with garlic knots. It's truly a great experience. Not only do they follow tradition, but it's eye opening to see, and remarkable to be allowed into their culture and accepted as a new friend.
The Spinuzzi house is welcoming, cozy, and the main hangout for multiple friend groups. The specific area everyone loves is the basement. The basement, decorated in flags across the walls, an air hockey table and mini bar for rendezvous, is where everything goes down. People gather and hangout, have a great time, and come back again just for another night of fun. There's also another side of the basement, it's a relaxing place to catch up on a television series, which is what we occupy our time with a lot of the time. With a large couch that can be a bed, you can cuddle right in under heaps of blankets and pillows surrounding you, usually the basement is where sleepovers take place. The Spinuzzi house feels like your own house, for a great time, and I'm pretty sure everyone is familiar with it. 
Mckenna has a lot of interests, besides hanging out with friends and going out, she does crafty things at home that she shares with friends and family. The first is baking, there are always cookies or cupcakes, and sometimes even pie that Mckenna has baked. For any event, Mckenna always bakes something. When I was over for the Fourth of July, I was blessed to have a bite of her famous pie it was delicious. We sometimes doubt our closest friend when they do something serious because they are constantly funny or goofy to us, however, this pie was heavenly. It must have taken a lot of time to be able to bake perfectly. That's what Mckenna does. You never know or understand how Mckenna can come up with things, but she's always able to introduce you to them and fit everything into her schedule, no matter how busy she is.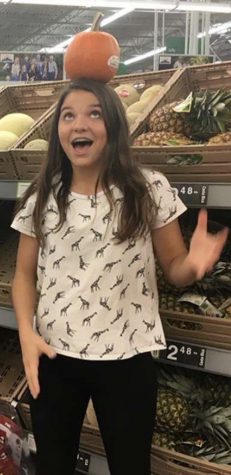 Everyone may know each other, but they don't truly understand how everyone acts as a close friend or outside of school. Of course there are different sides to a person, maybe they are outgoing in public and relaxed when surrounded by those they are comfortable with. Perhaps they enjoy doing something when hanging out with some people or sitting back and watching movies while binging on snacks. Mckenna does all of the above.
The best scenario is when you come across a friend at work. Especially Mckenna's work. Now, who could have possibly learned about the fun escapades that take place at The Summit"? Only work buddies right? No. Many people have fun there because of Mckenna, including Gavin Guyot, another co-worker and senior at Holy Family, Jamin Pasquini, Esrom Abraha, Addy Dalton, Enrique Garcia, and many more. If you ask any of these people, they can share the fun and crazy stories of Mckenna at work, which reflect her as well. Coming across a friend at work, is a quite splendid expedition, not only can you bother them, but you can see how they act towards different people. Mckenna stays the same, but is able to keep a fancy composure.
You meet a lot of odd people along the way, with stories that pull you in and later you become close.  If you are a newcomer to The Summit, you will be introduced to the owner of the laser tag room, the man that has been there since day one. Then, you will proceed to meet the gold-mine workers, mainly Mckenna and other friends. When she introduced everyone to these people, it was a great time. When you meet someone that loves to live a outgoing life, you are soon introduced to the people they bring along. Whether their uber gets stuck in rocks (Donald), or their online girlfriend can't fly out to visit (Orion), or perhaps you would've never come up with the nickname Peter Pan, none of it would've happened if you weren't close or at least semi-close to Mckenna Spinuzzi. Introducing all to a life filled with people we'd never expect to meet.
Overall, before you get to know Mckenna, you'll get to know the loving and loyal side of her once you become close, which is an amazing thing.