Soccer: The Road to the Playoffs
The 2021 Holy Family boys' soccer season kicked off with a win against Severance.  They've had a winning season so far, but all of it comes down to these last two weeks of games, and their only losses have been against Silver Creek, D'Evelyn, Cheyenne Mountain, Windsor, and Greeley Central –two of which were non-league games.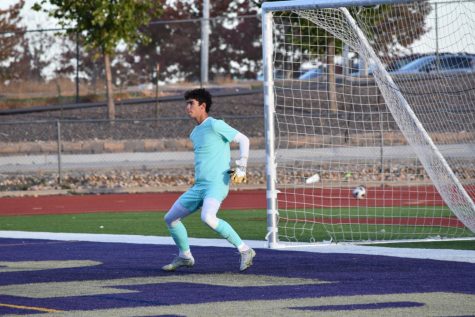 After a relentless defensive game and a spectacular goalkeeping game by Junior Jack Krueger, their game on Monday ended 0-0 against Jefferson Academy.
This year, with the game on Monday, they are currently 7-5-1 overall and are 5-3 in their league.  The boys are currently second in the Northern Colorado Athletic Conference right behind the 8-0 Silver Creek soccer team.
A playoff spot is likely for coach David Martinez's team, but wins against Greeley West (4-3-1 in NCAC) and Erie (3-4-1) to close out the season would go a long way.
Going into the second to last week of games, Junior Conor Byrne said, "I'm pretty confident in our team going into these last weeks, but I think everyone has nerves especially since we need to win the rest of our games.  I think with the way we've been playing that we can make it to the playoffs."
Junior Ryan Diaz said, "I think we'll go to playoffs, but it really comes down to these last few weeks, and how well the team plays.  If we play how we did last week (against Centaurus), I have no doubt we'll make it to the playoffs."
The pressure is on our soccer team for their last few games, but I have no doubt that they'll pull through.
Good luck gentlemen!!