A Day I Will Not Soon Forget
A First Hand Account of the Funeral of Officer Eric Talley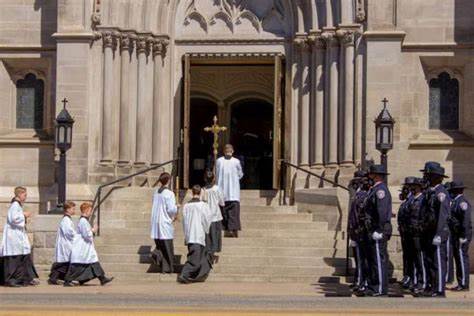 I arrived at Flatirons Church in Lafayette on a cold and snowy Tuesday morning at 0730, ready to go.
Three of my fellow Cadets and myself attended a briefing and got our assignment: direct arriving BPD units and officers, as well as watch the front doors and assist where needed.
This immediately hit home for all of us, out of the plethora of agencies assisting with the memorial and of all the assignments we could have gotten, we were one of the only ones that got assigned to the four Boulder PD parking rows. The task probably seems pretty insignificant and meaningless to most, all we were doing was making sure their cars got parked and that they got into the service, however something about having the opportunity to smile at those officers, make small talk, or offer my condolences really meant a lot to me.
I did not respond on the afternoon of Monday the 22nd, but some of them along with Officer Talley did.
Interacting with BPD and getting assigned to their section was in a sense my way of thanking them for putting their lives on the line, and an attempt at expressing my true gratitude and heartache for the loss of Officer Eric Talley.
The service was emotional from the beginning, and a few minutes prior to Officer Talley's arrival a bald eagle flew overhead, which was the perfect prelude to the events that were about to unfold.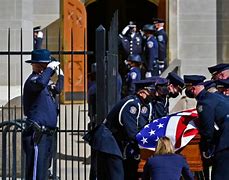 As the Honor Guard removed Officer Talley's casket from the hearse, I thought I had made it through one of the hardest parts of the whole event, then Officer Talley's family came into my field of vision. As I tried to stand at attention and stare blankly forward I couldn't help but notice the emptiness in his daughter's face, or the anguish his mother was experiencing as she clung to Chief Herold.
I cannot express in writing the multitude of emotions that moment made, and continues to make me feel. I do know that it is a moment I will never forget and will always hold close to myself.
During the service I really enjoyed the words spoken by Chief Herold and Sergeant Drelles, they put their whole hearts into what they said and I believe that Officer Talley was smiling down on them.
Additionally, I don't think there was a dry eye in the room as the poem Officer Talley's kids wrote for him was read.
I would also be remiss if I did not mention the two BPD officers who drove Officer Talley's patrol car during the procession. For those that do not know, those two officers ran into King Soopers with Officer Talley and were by his side when he fell.
This act initially brought tears to my eyes, even so I think it perfectly sums up the entire memorial and community response to this tragedy. Even though most of us did not have the pleasure of knowing Officer Talley, we were all affected by his death and came together from a variety of backgrounds and places to do what we could to honor his memory.
Officer Talley, I hope that I may someday possess the courage, character, devotion, and heart you showed your family, colleagues, and the citizens of Boulder each and every day. Your family and department should be extremely proud, you died a hero and will be remembered as that and then some.
Thank you for your sacrifice and for giving us all an example to work toward.
I hope you rest easy, we have the watch from here.