Teachers, Coaches, and Referees?
Having sports in a pandemic have proved to be challenging on numerous occasions. Basketball has been absolutely  no stranger to these hardships.
Recently there has been a shortage of referees to call the basketball games so this has left many scrambling. For Holy Family's teams, they've come up with a quick solution that involves some of the faculty and staff to go out of their way to help out their school.
Many of the teachers that have been involved in their own athletics in their day have stepped up to the role of referee in order to help out the problem at hand. Examples of these teachers stepping up include our very Mr. Jack Assaf along with Mr. Mark Yeazell.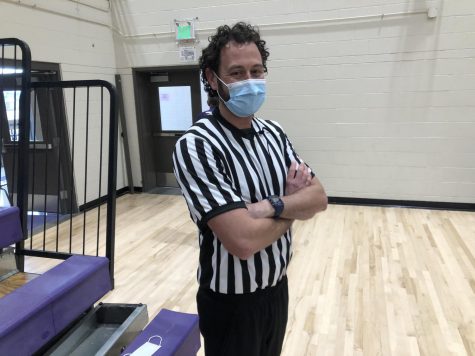 They have had to step up and run the games for the lower JV and C team levels while the varsity level will still obtain the usual provided referees like in years past.
Other teachers that have stepped up to the challenge include, Mrs. Moriah Nguyen, Mr. Dave Good and even our athletic director Benjamin Peterson.
This is no easy task either because of how much the teachers have going on all at once. They all obviously have things going on between their classes like grading and assigning but one that stands out for sure is Mr. Assaf.
"It's a little hard to do when you're colorblind," Mr. Assaf jokingly responded  when asked of the hardships of being a referee.
Coaching and teaching is clearly an abundance to do for anyone let alone a first year teacher at Holy Family who is clearly managing his work load very well.  It is very astonishing that he is able to do this for the school and it shows that he is clearly a overachiever that works very hard to do whatever he can to help out the school.
This also goes for all of the staff members that sacrifice their time and effort for our students and athletes alike. It is very fortunate that we have staff that is this devoted to our school and all of it's members.