Ariday Gallegos' Pool Time Pays Off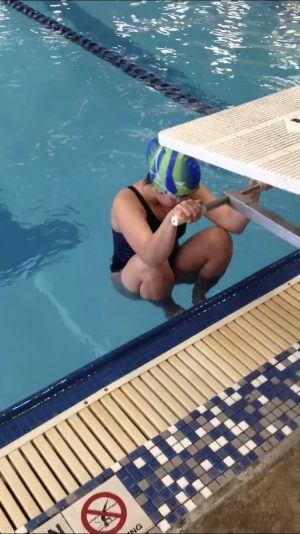 This swimming season at Holy Family, Ariday Gallegos was chosen by her team to be one of the four captains, her second time earning the honor.
She inspires to be a leader and support the girls especially the girls who are new to the sport.
Ariday has been  swimming with a team since she was six. She swims all year with Jefferson County Hurricanes and the Holy Family swim team. Her favorite part of swimming is practice specifically during warm up because she finds it therapeutic and says "I have time to think or sing songs in my head. Its really relaxing and calming."
Her biggest motivator for swimming is to keep her body healthy (even if it means waking up at 4:30 in the morning) and to get better at swimming. Her coaches also motivates her to push herself and was able to accomplish a very big goal shes had for years. Her biggest supporters, her parents, motivate her to strive to do her best.
The day of a meet Ariday plans out her meals and snacks to make sure she has the energy she needs. A good nights rest is also very important to her. On her way to the meets she loves to blast her playlist called "Jam out" to get her pumped.To keep herself from getting too nervous she likes talking to the girls about the type of swims they are doing and their competition. When she feels herself getting nervous she tells herself "This is my race. I'm gonna do great" and chooses to focus on doing her best and not the competition aspect of the meet.
Her advice to girls that want to join the swim team is to have fun and try it out because there are so many things that you can do in the water. There is also so much that can be learned about yourself even if you end up not liking it. She also believes that its important to listen and respect the coaches in order to learn from them.
Ariday coaches flippers that are ages 4-18. She loved teaching the 8-10 year olds because she got to joke around with them and have fun. She also taught the 4-5 year old which was "crazy and chaotic" as she described it but it taught her to be patient and creative. Within her experience so far she has learned a lot from the kids of how better her coaching skills and prepare her for her future career of working with children.