Giving Hope to the Harvest of Hope Food Pantry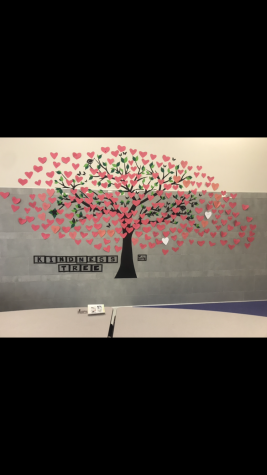 The Coronavirus Pandemic was the most impactful news event that prompted me to take action in my community.  At Holy Family High School I founded a club called Peace Team, which was based on the idea that there is more that unites us than divides us. We did several projects to enhance our love and respect for each other and our community.  These projects included Kindness Notes, Kindness Tree, Valentines Notes and a food drive for Harvest of Hope Food Pantry in Boulder, Colorado.
This January 2020 I started reading about a deadly virus in China.  China shut down schools and businesses to avoid spreading infection. The situation was dire. People were dying with no cure or vaccine available.  Our nation's top scientists and doctors were afraid the United States was not prepared to fight Coronavirus. Scientific models projected rapid spread throughout the country killing millions of people. I began to think about what act of kindness I could do to help my community prepare for this imminent disaster.
Economists predicted millions of jobs lost nationwide.  This would create severe hardship and food scarcity for homeless shelters and food banks.  My urgent call to action was to create a canned food drive to help those in need. I reached out to Harvest of Hope Pantry in Boulder, Colorado. The pantry Director said they were on the verge of a massive food shortage.  Harvest of Hope provides food to families in need.  It gives people dignity and control during a difficult time.  Harvest of Hope's annual goal is to fill 40,000 shopping carts, which requires 500,000 pounds of food.  This year even more food would be needed. The COVID19 pandemic has proven to be the most dire for all local and national food banks in our country.
Immediately I created a food drive and asked everyone in our High School to donate.  My Mom and I bought food daily to help Harvest of Hope. The news worsened each day about Coronavirus and the potential effect on our country.  My requests became more urgent as I asked every Holy Family teacher to make announcements in their class.  I created fliers and blanketed the school with requests for help, and posted online to inspire kids to bring food.  Holy Family Teachers, administrators, students and my family brought in hundreds of pounds of food for Harvest of Hope!
The very last day of my senior year we collected and organized the food into bins.  After school my parents and I drove two cars loaded with food to Harvest of Hope.  When we arrived the shelves were empty.  The Director told us how desperate they were as the need for food was growing exponentially. They had never seen anything like this tragedy. My mom and I silently drove home from the food shelter listening to horrific updates about Coronavirus on the radio.  The world was changing quickly by the minute.  By the time we got home Mr. Hauptly sent an email that Holy Family High school was closing to protect us all from the spread of Coronavirus. That was my last day of my Senior year at Holy Family High School.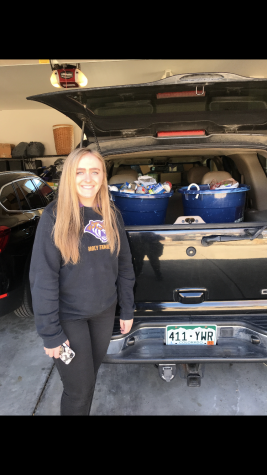 The world has dramatically changed since that day.  Thousands of people have died. Millions of families have lost jobs. I learned the importance of helping the most vulnerable people as God asks of us.  No one is immune from the health and economic impacts of a deadly virus. We are in an interconnected global world and need to help each other.   I learned the importance of acting early, quickly and decisively in a time of crisis. I am proud of the work we at Holy Family accomplished feeding hundreds of families.
The Coronavirus Pandemic prompted Peace Team and the Holy Family High School community to act quickly. I became a humble determined leader, with a compassionate heart to serve others. My Senior quote by Mother Teresa was to "Spread LOVE everywhere you go. Let no one ever come to you without leaving happier."  As I leave Holy Family High School I will remember my last day was a day full of love, the day we delivered food to the Harvest of Hope.  I believe this act of kindness was exactly what God wants us to do for one and another. We need to remember now more than ever that there is more that unites us than divides us, especially in this time of crisis.