Where's Ward? On the Road with Loralee (13)
My final season of high school is officially underway. I gave a synopsis of my upcoming schedule in my previous travel blog. The first high school at Eaton rodeo passed. The cutting and reined cowhorse went well. I won a round of both cutting and cowhorse. The highlight of my weekend, however, happened in the barrel race. Flo and I placed second on Saturday and third on Sunday in a really tight race. We ran two sub-sixteen runs, which is really competitive for this pen.
I hauled horses the next weekend to a 10K added barrel race at Loveland. I ran four horses on Saturday and three on Sunday. Flo made an outstanding run, winning the entire barrel race on Saturday with 160 entries. She ran with the very best. I attached a picture of results. Kelly Yates, Carley Cervi, and Shali Lord are all NFR (National Final Rodeo) qualifiers. Sister continues to make great progress too! My other two horses, Elsa and Junie, made respectable runs. Though it sounds contradictory, Elsa and Junie sometimes run too fast and then forget where their feet are at. Learning to control their speed and feet placement comes with time, patience, and more runs. Flo stayed at home on Saturday to rest for the upcoming high school rodeo in Lamar.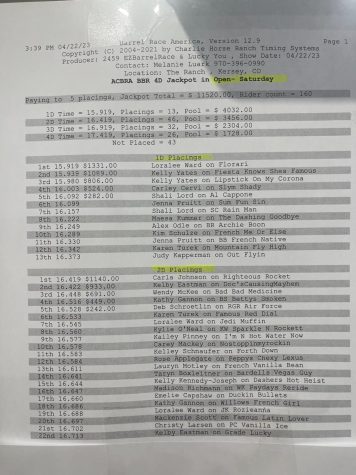 I officially signed with CSU on Tuesday (4/25). Thank you to Mr. Yunt for giving all HF student athletes the spotlight for the afternoon. I am joined by my cousin, Konnor Ward, and longtime friend, Sam Gallagher, as future collegiate rodeo athletes.
I write my last story for the month of April on my way to the Lamar high school rodeo. My attendance continues to look grave but my grades hold steady. The end is near, though this feels like a slow, drawn-out death.