Lacrosse: History Before Your Eyes
Following back to back girls and boys lacrosse victories over the Lobos, the boy lacrosse hosted their first JV game in program history, as a varsity program. The girls lacrosse game ended in a thriller double overtime victory winning 9-8 against Conifer. The boys lacrosse team played a great game taking a comfortable win 16-8 over Conifer. Both the guys and girls shared their senior night and both came up victorious.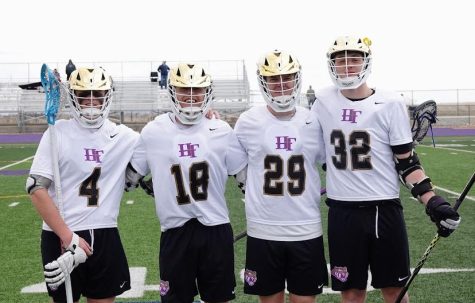 But what shortly followed the senior night was history being made at Holy Family High School. The boys lacrosse program has only been a varsity team for five years, their first year being the 2018-2019 season. 2016 was the first year the sport of lacrosse came to Holy Family. However, CHSAA required 2 full seasons of JV before they could play at the varsity level. Meaning the boys lacrosse program is in its fifth year of being a varsity team. 
A lot of times many people look over the fact that there is a JV game of any kind. But this one was a bit different, and meant a lot more to Holy Family high school. Lacrosse being such a new sport and still growing, it is amazing to see Holy Family have a team in the first place, let alone a JV team. 
Although it seems normal for a sports program to have a JV team, there's a little more to it in lacrosse. Most high school teams in Colorado are made up of district teams, meaning there are players from multiple different schools to make up one team. So not every high school has their own team. For example, in 5a Adams 12 School District is made up of 3 high schools (Horizon, Legacy, and Mountain Range). Mountain Range is the only school that has a lacrosse team giving them the ability to have players from Horizon, Legacy, and even Broomfield; even though they aren't technically in their school district. 
There are many teams just like Mountain Range that have a team where other high school players without a school team can join. This gives other teams a lot more players to choose from and having enough players to have two or three teams. 
This is what makes the difference between most high school teams and Holy Family. Holy Family being a private school means they can't pull any other players from other schools. Everyone who is on the team goes to the school. This is a rare thing to see in Colorado high school lacrosse. So taking in consideration that Holy Family only has 800 kids to choose from compared to 6,000, it is pretty impressive there are enough kids to make up a JV team.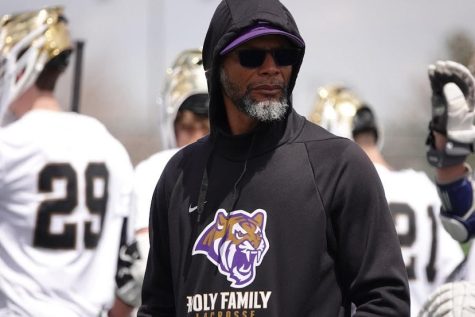 But how did the lacrosse program go from just barely having enough players to make a varsity team, to having a JV team in just two years? Lee Williams. Head coach Lee Williams has really made a change in this program with just his style of coaching. Having a cool personality who really tries to get to know his guys on a personal level makes a lot more kids want to come out to play lacrosse and stay to grow the program. Just his second year as a head coach and he's already got a JV team starting to grow, that says something. 
History has been made this past weekend and not a lot of people realized it. Lacrosse at Holy Family is finally starting to get its name around. Despite the size of the school the lacrosse program is headed into the right direction.