The Best Easter Traditions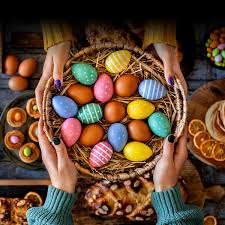 It's finally April, which means the weather is getting warmer and the days are getting longer. This month brings spring and the family holiday of Easter. Over time, Easter has developed several of its own traditions and activities for everyone in the family, especially the kids.
The most famous symbol of modern Easter is the Easter bunny.
Although Easter is a Christian holiday, the Bible makes no mention of an Easter bunny. The specific origins of the Easter bunny are unknown, but scholars have some theories.
It is believed that the bunny came to America through German immigrants in the 1700s. Eventually, the German customs spread throughout the United States, and the Easter bunny began to leave small gifts to the children. In return, kids began to leave out carrots in case the bunny got hungry.
Colorful Easter eggs are another big tradition during the holiday. Kids around the country decorate and hunt for the treasures, which is a tradition that dates all the way back to the 13th century.
In the Christian faith, the eggs represent Jesus rising from the dead and emerging from the tomb. Easter eggs even make an appearance in the US government.
Every Monday after Easter, the White House hosts an Easter egg roll where kids can play with the eggs on the lawn. The first egg roll happened in 1878 with Rutherford B. Hayes in office.
Another tradition that dates back to the 1800s is the Easter parade. This gorgeous event is held in Manhattan, and the participants often wear decorated bonnets and hats. It shuts traffic down in New York City for the day. Today, cities across the country have adopted Easter parades in order to celebrate. Although the parades have no Christian significance, it is an important part of culture and a fun event for everyone.