PGA Tour- The Players Championship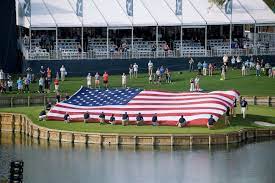 The PGA Tour is a professional golf organization that organizes and oversees most of the top-level golf tournaments in the United States and around the world. The PGA Tour was founded in 1929 and is headquartered in Ponte Vedra Beach, Florida.
The PGA Tour is responsible for organizing and conducting over 40 tournaments annually, including major championships such as the Masters, the US Open, the Open Championship, and the PGA Championship. In addition to the major championships, the PGA Tour also includes other prestigious events such as The Players Championship and the FedEx Cup playoffs.
The PGA Tour consists of a group of professional golfers who compete in these events, including some of the most talented golfers in the world. The tour is known for its rigorous competition, high prize money, and its commitment to promoting golf as a sport.
The PGA Tour has a significant impact on the golf industry and economy, with its events generating millions of dollars in revenue for host cities and businesses. The organization is also involved in charitable initiatives, raising funds for various causes through its tournaments and events.
This year, the Players Championship was held on March 7-12, with multiple practice days beforehand. The annual tradition of a flyover on Military Appreciation Day occurred, with a special performance from country artist, Riley Green. 
Green played a number of his hit songs, however, the crowd especially loved "Different Round Here", which is a song about being patriotic.
After a couple days of practice rounds for the players, the tournament kicked off. With conditions ranging from sunny, all the way to windy, the tournament was full of surprises. 
Scottie Scheffler was the 2023 Players Championship winner. Scheffler played college golf at the University of Texas, where he won seven individual titles and was named the Big 12 Player of the Year twice. After graduating, he turned professional in 2019 and earned his PGA Tour card for the 2019-2020 season through the Korn Ferry Tour Finals.
The Masters is set to begin on April 6th, taking place in Augusta National Golf Course. Stay tuned for updates!