The History of Saint Patricks Day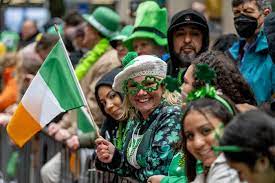 It is time to break out your green clothes and drinks, it's time for St. Patrick's Day! On March 17, people around the globe celebrate the feast day of Saint Patrick, the patron saint of Ireland. It is a day of good food, gathering with friends, and several shamrocks. This fun day has been around for hundreds of years. 
Towards the end of the 4th century in Roman Britain, Saint Patrick was born.
He was kidnapped when he was just 16, and he was taken to Ireland as a slave. Eventually, he escaped this slavery, but he returned later to convert the Irish people to Christianity. When he died on March 17, 461, he had created Christian communities within Ireland through schools and churches.
People talked about Saint Patrick, and it was often said that he used a shamrock to explain the trinity, hence the shamrock tradition today. Records show that the first Saint Patrick's Day parade was on March 17, 1601. Originally, the color blue represented Saint Patrick's Day, but today it has changed to green.
Over time, the history of Saint Patrick's has faded, and it is more of a modern celebration of all things Irish. The celebration eventually reached the United States through an influx of Irish immigrants.
In 1737, Boston had its first Saint Patrick's Day parade. New York and Chicago were not far behind. Famously, the Chicago River has been dyed green for the holiday since 1962.
At the time, people used 100 pounds of dye to keep the river green for a week. Now, city officials use only 40 pounds of green dye to reduce environmental effects and to keep it colorful for many hours. The traditional food and drink for this holiday include corned beef, cabbage, and beer. Some bars even dye their beer green for this fun holiday.