Where's Ward? On the Road with Loralee (11)
I attended school for a staggering two days during the first week of school after spring break. I planned on only missing one day, but a text message from my dad interrupted all plans.
On Wednesday afternoon, I received the following forwarded picture and message from my dad: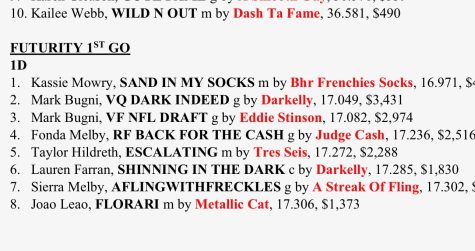 "My Metallic Cat x Babyflo on a standard. She's sound and just a little fat but easy and fun and by April 14 should be ready."
The message came from World Champion Fallon Taylor. My dad asked Fallon (without my knowledge) if she had any horses laying around. Everything in my barn is currently too young/inexperienced to compete at high school rodeos. The spring season for Colorado State High School rodeo begins April 14 and lasts until the end of May.
Fallon offered her mare "FLORARI." FLORARI's dad is 52 million dollar cutting horse sire, and her mom, Flos Heiress, is the horse that carried Fallon to her 2014 World Championship title.
In short, this horse's pedigree is stacked. An injury and Fallon's busy schedule kept FLORARI from competing on a regular basis. Fallon offered for me to come down to Texas to try her. One simply says yes to an opportunity like this. So, my dad and I jumped in the truck on Thursday and drove twelve hours. I spent Friday with Fallon  at her house. On Saturday, we went to a jackpot barrel race where conditions were less than ideal.
Texas received eight inches of rain on Friday night so we ran through about a foot of sticky mud. FLORARI handled the conditions well, especially for being out-of-shape. We barely tipped the first barrel. With a few weeks of conditioning and more runs together, we will be ready for my senior season.
I am extremely fortunate to have someone like Fallon in my corner. She is one of the most well-known figures in rodeo for not only her winning record but also for her presence on social media and successful businesses.
We are back on I-70, traversing Colorado's unkempt roads. We will arrive home in a few hours then the grind begins again.