Nebraska Cheerleader Competes at State Alone!
Nebraska cheerleader competes alone at her last cheer competition and the crowd didn't leave her hanging.
Morrill High School senior, Katrina Kohel, was the last one left on the Morrill cheer squad after three freshman had quit due to personal reasons. Coach April Ott told Katrina that they would still go and enjoy the three day competition and watch almost 230 teams compete.
Katrina Kohel had a hard decision to make and eventually decided that she had nothing to lose. With one and a half weeks left until the state competition, Coach Ott reworked the routine into a one woman show. Kohel competed in the Game Day Class D division and performed solo.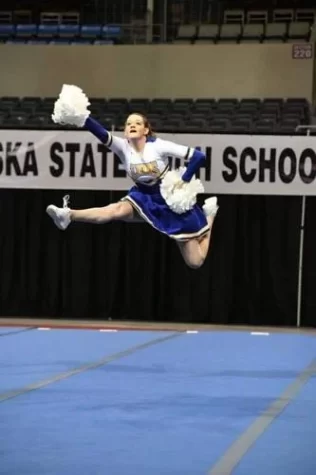 Although Kohel was cheering alone, she had the support of the entire arena with her. Kohel's only family in the audience was her grandparents because her parents had gone to support her twin brother in his state wrestling tournament. The crowd engagement that Kohel brought about was unimaginable and, for a solo performance, was impressive.
Nebraska Coaches Association's executive director, Darin Boysen, said this was the first time that a cheerleader has competed by herself. Of the 115 teams in the cheer competition, team sizes varied from four girls to over twenty girls. Because Kohel competed by herself, the judges were not able to score her like every other team. They still gave her the chance that she so greatly deserved.
Kohel placed eighth out of the twelve teams in her division, making this the highest the Lions have placed in the past three years. Coach Ott mentioned how Kohel was typically more of a follower than a leader but really stepped up her senior year and showed resilience and dedication to her team.
Kohel also plays volleyball, basketball, and will also run track this spring, competing in the high jump and 400 meter. She plans on attending the University of Nebraska at Kearney to study nursing and then hopefully join the U.S. Air Force.