Bruce Willis and His Dementia Diagnosis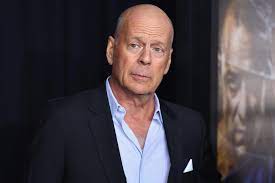 Bruce Willis, the well-known American actor has recently been diagnosed with a form of dementia and aphasia. He started his career in 1980 with his first film "The First Deadly Sin". Shortly after he married his first wife Demi Moore. He has appeared in over a hundred films. Die Hard, Looper, Moonrise Kingdom, and the Sixth Sense were some of the more popular ones.
Willis's family has shared with the public that he has been diagnosed with frontotemporal dementia, also known as FTD.
He also has been diagnosed with aphasia which affects how you communicate with others. It is caused by damage to the parts of the brain that are responsible for expression and comprehension which is why it affects communication with others.
Willis' family also shares that after this diagnosis he will be needed to "step back" from his acting career and focus on his health. He requires constant care from his family and medical professionals which is why his acting career will sadly have to come to an end. His family shares that it has been a painful time but they are happy and content to now have a clear diagnosis.
Another statement from his family speaks about how there is no cure for aphasia right now but they hope that any attention that the media will help the disease get more research and awareness.
As more attention has been brought to this disease due to Bruce's diagnosis, research continues to be done to find a potential cure. The Willis family has been supporting research for the disease and are hoping to find a cure shortly.