Wrestling: Tigers Send 5 to State
After a great weekend of wrestling the Tigers are sending five wrestlers off to Ball Arena this weekend for the Wrestling State Championships. 
Out of these five wrestlers, two of them took home the region title. Lorenzo Avila at 120 lbs and Abram Moore at 215 lbs. The other wrestlers, Brayden Bach (138 lbs), Jonathan Aiello (144 lbs), and Cam Austin (190 lbs), all placed in the top four to earn their ticket to the big dance.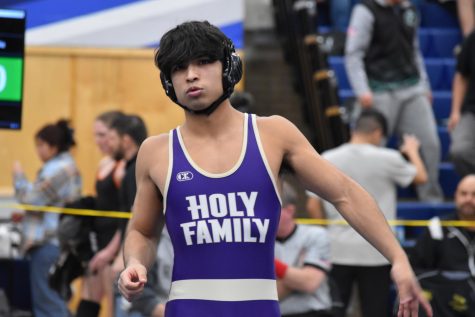 In Lorenzo's finals match he beat Caden Geanetta, from Faith Christian, with a 10-4 decision. Lorenzo cruised through his region and got a pretty good draw in the state bracket. He sits at the number 4 seed in the bracket, but if you know anything about wrestling anything can happen meaning seeding doesn't really matter. However he drew the rematch of his finals match, Caden Geanetta, in his first round. Lorenzo had a slow start to the season given the fact he's been wrestling on a torn ACL since day 1. Despite his injury he's found a way to bounce back and is on the hunt for his first state title. 
Abram Moore also didn't have a problem in his region. He didn't see much of a challenge until his finals match against Jayce Prante from Englewood. He won this match by a 7-0 decision giving him the regional title. This is the second time he's seen this match and came up successful once again. He drew the second seed in the state bracket and also has another rematch of his semifinals regional match in his first round. He beat Amani Fuga, from Mullen, in the first period last weekend, and plans to do the same on Thursday in the first round. If he wins he is most likely going to have another regional rematch of his finals match in the quarters. The good thing for Abe is he's seen a lot of these kids on his side before and has an easy chance to see the finals. 
Brayden Bach finished 3rd in his region and didn't see much trouble except for his semifinals match. He lost to freshman Isaak Chavez, from Mullen, by a 2-4 decision. This was the second time he's lost to him this year. He saw him earlier in the season at the Florence tournament and lost to him in the finals, 3-1. Brayden has a pretty decent draw but a very tough tournament to say the least. He has Parker Buhr, from Centuri, first round and he hasn't wrestled this kid this year. However it looks like Brayden has a good shot to make the semifinals. Bach does have to go through junior D`mitri Garza-Alarcon from Fort Lupton. He is on his way to win his 3rd state title this year, but Brayden has other plans in mind. Bach is a good wrestler to look out for in the state tournament after he took a heartbreaking loss in last year's state semifinals match. He's had an outstanding season and has a real shot to take one home. 
Jonathan Aiello finished 4th in his region and made his first trip to state as a senior. Jon lost his 3rd place match and was challenged for a wrestle back to get his 4th place spot taken. Jon was determined to keep his state ticket and pinned Ashtyn Meeks from Fort Morgan in the first minute of the match. However placing 4th meant Jon was going to have some tough matchups in the state tournament. He drew Kilian Schultz from Severance in the first round and he took first in his region. Jon was pinned by him in the semifinals match last weekend but doesn't mean he's guaranteed a loss. Jon has had a great season this year and has improved a lot in the wrestling room. He's another one to look out for because he can surprisingly shock some people. 
Cam Austin finished 3rd in his region. Cam took a tough loss in the semifinals to Oliver Scelza from Mullen who he's beaten earlier in the season. Despite this loss he went on to secure 3rd place. Cam didn't get a great draw for the state tournament and due to the new CHSAA seeding method he's got the number 1 wrestler in the first round. Colbe Runner, from Severance, won their region and is on his mission for his 3rd straight state title. Realistically Cam should be a higher seed with the fact he placed 3rd in his region, beating most of the guys ranked above him. Given this you still can't count Cam out to do some damage in the State bracket. 
Brayden Bach speaks on behalf of the team and expresses how the ultimate goal is to win a state title. He explained how all the wrestlers have been putting in the time and work on the mat and when it comes to state you just have to wrestle at your best. 
These 5 wrestlers have been in the wrestling room all year round putting in the work for this moment. As a wrestler your dream is to be in front of that Ball Arena crowd showing what you're made of. A big factor of these guys' growth over the season is their new coaching staff this year. New head coach, Ernie Derrera, brought in many other great wrestlers to be a part of the coaching staff.
Kolsen Welham is an alumni from Holy Family and won a state championship his senior year. He went on to wrestle at Arizona State University in Division I. His cousin Hunter Branson, also a Holy Family wrestler alumni, followed him to be a part of the coaching staff as well. He placed at state all four years. Julian Prieto, also another Holy Family wrestler alumni, came back to coach. Ernie also brought coach Joe Malanga to help the program.
These wrestlers have been surrounded with so much talent at the coaching position and their time is finally here to show what they are made of. They've not only brought good coaching, but also have built a bond with all their wrestlers. 
"I have gotten more opportunities to strengthen and increase my talents working with younger knowledge and just in general a better environment," Junior Brayden Bach on the new coaching. 
"Honestly as a team we wanna go out there and enjoy the moment," Bach shares going into day one of state.