Rocky Mountains Continue to be Overtaken by Fires
Road closures and poor air quality just a few of the mounting concerns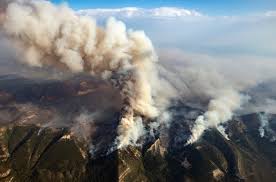 In the middle of August, wildfires started appearing across the Rocky Mountains.
There are a total of six fires burning in the state of Colorado, which will more than likely increase over the coming weeks.
The fire at Pine Gulch, on the Western Slope, has grown to 138,000 acres wide (the largest in state history, surpassing the Hayman fire of 2016), with only 47 percent of it under containment.
The Pine Gulch Fire was started by lightning and is burning about 18 miles from Grand Junction.
The second biggest fire, which started on August 10, is the Grizzly Creek fire. It has now burned 30,719 acres of land, and is only about 33 percent contained. It is located about one mile east of Glenwood Springs, and the cause of  the fire is still unknown.
Four other fires have now started in different areas of the Rockies from August 13-14 and the causes are still unknown. These four other fires are still continuing to spread with the containment only being zero to three percent.
Hundreds of residents and businesses have been forced to evacuate with very little notice. Many residents have voluntarily evacuated out of concern for their own safety and health.
Unfortunately, animals and other wildlife have not been so lucky in regards to the wildfires. Firefighters have been working hard not only to try and contain the fires, but to rescue as much wildlife as possible. Animals have been retreating into nearby towns and neighborhoods, and residents have been asked to leave water outside to aid them.
Large amounts of smoke cloak the mountains and make it incredibly hard to see and breathe. Erratic winds have been spreading the smoke all across the mountains, and into the cities, making it impossible to avoid the poor air quality.
As the level of containment is starting to rise for the Grizzly Creek Fire, some residents have been invited to return home, but with caution. Firefighters can not give a definite answer on when the fires will be stopped, but they predict it won't be until October.