Kyrie to the Mavs
Kyrie Irving a NBA superstar was traded to the Dallas Mavericks this week in a block buster trade.
The trade consisted of Brooklyn sending of Kyrie with Markieff Morris to the Dallas Maverick in return for Spencer Dinwiddie,  Dorian Finney-Smith and three picks.
With every big trade the question always arises, who was the winner of the trade? There is a lot to be taken into account as sense Kyrie was trades so has Kevin Durant and as a team the Nets lose all super star player but get many competent NBA players all having the potential to have big jumps and develop.
An example of this was Cam Thomas who was a well know you scoring guard was stuck not able to find minutes and the second the trades happened Cam had three 40-point games.
The Mavs in return receive a super star who can finally carry some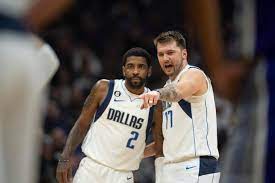 of the load for Luka and Kyrie is more than capable of making big shots and having big games. Jason Kidd, the HC of the Mavs says Kyrie is going to play Jalen Brunson played for them just at a higher level. Kidd said, " When you look at Ky — nothing against JB — but Ky is at a different level, so this gives us another weapon. Someone's going to be free."
It his a hard spot to be in for the Nets because before it all fell apart they had championship aspirations and there record reflects that. Therefore, the route they go is a hard one because they can try to compete but they just don't have the talent to go the distance and its to late to tank.
The Mavs now have the top heavy talent but no rim protecting and very little wing depth. The Mavs past superpower was its wings defense depth and shooting ability. Without this the fit with Kyrie has to be perfect.