Joey Spallina's College Debut…
The number one lacrosse recruit of the 2023 freshman class, Joey Spallina, made his questionable debut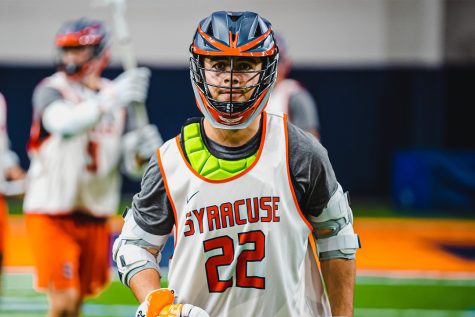 Joey Spallina came to Syracuse with lots of hype, especially after taking the legendary number 22.
The freshman went to Mt. Sinai High School where he earned the Long Island career points record with 501 and won a Long Island Championship. He was also named All-American three times, National Player of the Year, and the number one recruit according to Inside Lacrosse.
Spallina was also a standout player, creating loads of highlight reel plays for one of the top clubs in the nation, Team 91 Long Island.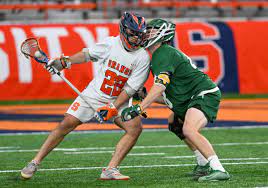 However, Spallina did not live up to the hype in his first game with the Orange.
Fans had high hopes when the starting attackman made an explosive dodge from X up the right side of the field, and stung the corner from almost no angle, tying the game at 5-5 after halftime.
The rest of the game, the Vermont defense was able to contain Spallina, forcing two turnovers and no more points. Spallina finished with one goal, on 1-15 shooting and 2 turnovers. Despite the rough college debut from Spallina, the Orange still pulled out a win, 7-5 over Vermont. After his performance, Syracuse alum and former Colorado Mammoth player, Gary Gait, founder of Spallina's NIL sponsor, Gait Lacrosse, said, "The goals will come".
Spallina is facing lots of criticism all over social media after his underwhelming performance, especially after his goal celebration, that spanned about 30 yards of the field. However, fans of the sport should stay patient with Spallina, as he is very capable of living up to his potential.