Kylie Jenner Makes a Statement with her Lion Dress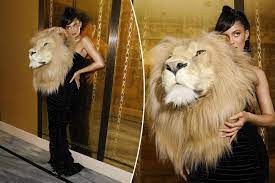 This week during Paris fashion week Kylie Jenner wore quite a statement piece.
This dress was inspired by Ingrid Newkirk the president of the animal rights group, PETA. She has grown the world's largest animal rights organization. Newkirk is 73 years old and has been a part of the organization for over 25 years. She inspired the dress to celebrate animal beauty. It was made to be a statement against trophy hunting. Lions are the most targeted animal by trophy hunting. This dress was made to be a statement to stop trophy hunting and prevent it.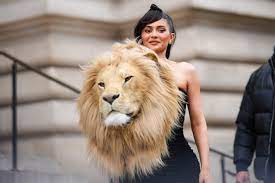 This dress was made by Daniel Roseberry and Schiaparelli. Schiaparelli said "celebrating the glory of the natural world. It was worn at the Petit Palais in Paris. It was a black strapless velvet gown with a life size lion head on the shoulder. It was completely handmade by the designer with hand-sculpted foam, wool, and silk faux fur. It was designed to look as lifelike as possible. The fashion house made it very clear that no animals were harmed in the making of any of the pieces. A replica of the dress was worn by Irina Shayk on the runway.
This dress made a great impact on awareness of trophy hunting.