Art of the Cowgirl 2023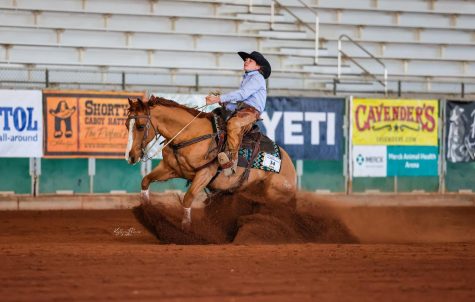 As promised in my last article, this story entails my experience at Art of the Cowgirl 2023. Long story short, I sucked. The positive part of not performing well is the learning aspect.
Art of the Cowgirl's annual gathering in Queen Creek, Arizona, highlights women in the western industry. Art of the Cowgirl hosts the World's Greatest Horsewoman among many other competitions. Herdwork, reining, fencework, and steer stopping comprise the World's Greatest. The coolest (and most difficult) part of this competition is that each competitor uses the same horse/bit for all four events.
I came into this event unprepared. When I entered this (nonrefundable) event, my focus allotted time for my cowhorse. However, my focus has shifted since then, and barrel racing has consumed all my energy. Nonetheless, I competed and pretended to be the most well-prepared competitor there.
This strategy did not work well, but I learned lots. I learned the effects of having "too many irons in the fire." I learned the importance of keeping composure when plans go awry. This reaffirms the path I am choosing to take. I try to cherish these moments the best I can. Being surrounded by the industry's best women gives off energy that I hope to carry with me.
Retail therapy helps to soothe one's sorrows. Though I claim to hate shopping, I genuinely enjoy looking through the vendors at this event. All the vendors are handpicked and supply super unique items. I mostly look from a distance as the artwork, jewelry, bits, etc. cost more than most teenager's first vehicle.
My favorite interaction was with my self-designated "shirt lady," Paige Callaway. Paige owns Pursue Victory/Paige 1912. Paige designs all her products, and they are manufactered in-house in southern Alberta. Paige, a fellow barrel racer, fed my newfound professional rodeo addiction with encouragment to travel north to Canada for the summer months.
Arizona's sunshine also made my poor performance feel better. My brother's performance also made this trip more tolerable. He won money at hia event and sold three horses! I hope to attend Art of the Cowgirl again but maybe as a spectator. With new opportunities on the horizon, my cowhorse passion may have to take a backseat to barrel racing.