Welcome to the Family
There's a new Joe walking around the Holy Family hallways, and he's doing it with swagger.
Father Joe Grady is the new priest here at Holy Family High School, and he is ready to make an impact on our community.
First things first, he's here to have fun. "He used to work with a bunch of college students, so I think that his energy there will be more or less resonant here," says Jack Culp, Grady's first cousin and senior at Holy Family. "One of his main accomplishments working with college students is basically going out and saying 'alright who wants to play some spikeball?'" He worked at Colorado State University at the campus ministry program for about three years prior to his new job at Holy Family.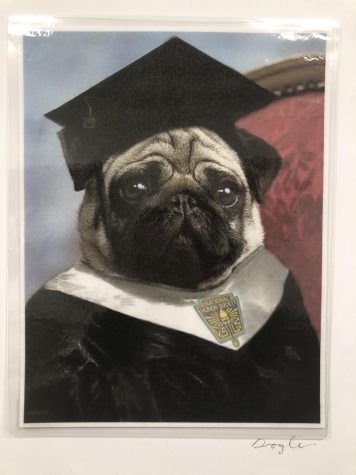 His goofy personality includes hiking, loving legos, enjoying reading, bringing popsicles to students at lunch, getting ready for CrossFit competitions, and loving Doyle. Doyle is a cute little pug that has his graduation picture hung up in the center of Father Joe's office, and definitely has the tiger watching its back for being the most loved school mascot. In every conversation, Joe is cracking jokes and bringing humor into the HF community. "This weekend my cousin and I are going to see if we can tackle Pike's Peak. If I don't show up next week, you know where to look for me," Father joked.
Father Joe is also focused on expanding the spirituality and faith of the students and staff at Holy Family. "Right now the goal is to keep us afloat spiritually. We've all had a really intense couple of months, and I think everyone is just really happy to be back. So maybe the goal right now is just to do something rather than nothing." He is hoping to even bring a retreat to the students, as he thinks it is very necessary to "make sure that a spiritual life is a focus even though we can't really do as much as we normally do." His homilies are definitely geared towards the students, bringing a message that truly applies to them.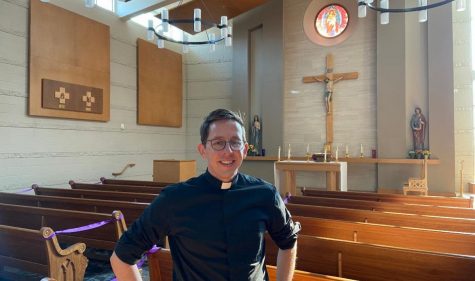 As the priest and spiritual guide of the school, Grady has some advice for those looking at becoming a priest. "Start living that kind of lifestyle now. You don't have to wait until seminary or until you're ordained to start living a priesthood lifestyle. Just start living that sort of life now and see if you like it. Then if you do start taking it seriously… have a life of prayer, a life of charitable work, life of being invested in other people… going to mass and participating in the life of the church that way." 
Holy Family is very lucky to have Father Joe Grady be a part of their life. He will definitely leave a mark on all the students here, as he makes them excited to go to mass, listen to his homilies, and be closer to God.