CFP: That's a Wrap
On New Years Eve day the college football playoff semifinals went down in Georgia and Arizona. The matchups consisted of #1 Georgia against #4 Ohio State, and #2 Michigan against #3 TCU. The night started out with a shootout between Michigan and TCU. 
In the early quarters of the game TCU showed they deserved to be there, almost putting Michigan away in the first half. With a 21-6 TCU lead at half made many think it was over for Michigan. But quarterback J.J McCarthy didn't let them fall behind.
The third quarter was the most combined points scored by both teams in a playoff game with a total of 44 points. This offensive shootout came down to the wire but the Horned Frogs pulled off the upset 51-45.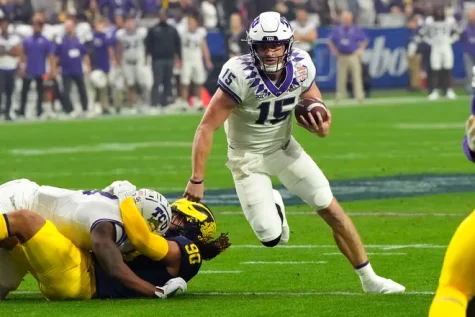 Georgia and Ohio State followed with another exciting game. Following the same trend, Ohio State took an early lead and gave Georgia a wake up call. Everyone thought it was over when the Buckeyes had a 38-24 lead going into the 4th quarter. However Bennett and the Bulldogs scored 18 points with only a field goal against them. 
Ohio State had the chance to win the game with the final seconds left. But Noah Ruggles shanked a 50 yard field goal wide left, destroying their hopes of making the national championship.
Heading into championship weekend people were still in shock that a little team in the BIG 12 that went 5-7 last year is in the National Championship. They were expected to be rolled by Michigan but shocked the world with a victory. 
It was already well known that TCU had to have a perfect game to even have a chance with the Bulldogs. But they didn't even come close to a perfect game. 
After an outstanding game from Georgia and Stetson Bennett with a 6 touchdown performance, the Bulldogs went on to win their second consecutive championship. Crushing the Horned Frogs 65-7. Making such an exciting championship game.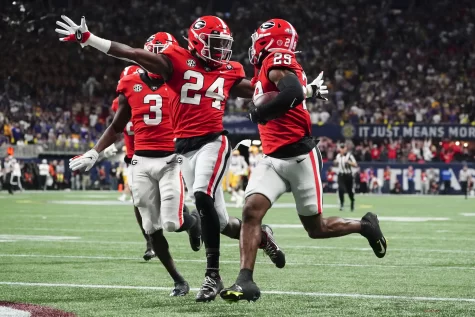 It was a whole different level of football TCU saw last night and Coach Dykes took a humble loss. 
"Those guys came out and played exceptionally well. They've got a very good football team. Really talented." Dykes said in his media conference after the tough loss.
TCU didn't come prepared to stop this dominant Bulldog team but Coach Dykes is still proud how far his team had come.