Holy Family Cheer Team brings home some long awaited bling!
Holy Family's Cheer Team has placed Second in the 4A State Tournament. HF Cheer has not made a finals appearance in over 16 years, until the 2022-2023 HF Cheer team has proven to all the hard work put in over the past year to get them to where they are today.
On Friday, December 1oth, 2022, the Holy Family Tiger Cheer Team was crowned the 4A All Girl Cheer State Runner Up. Although it is not first place, it is still considered an incredible accomplishment seeing as the last finals appearance for the HF Cheer Team was back in 2004, over 16 years ago.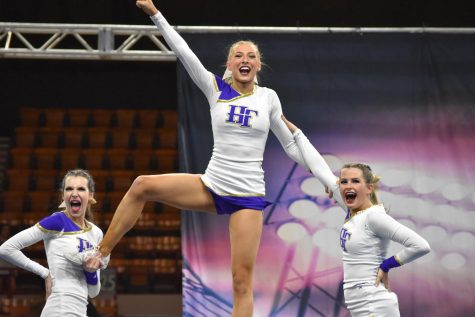 The day started with an early morning wake up call allowing time for hair and makeup preparations. As some found this as an emotional time filled with tears, the team was calm as nerves had not fully set in. Once hair and makeup was completed, the hotel was able to set us up with a private practice room where finishing touches in the routine were perfected and tiny details were polished as these adjustments would set us apart from any other team.
When the time rolled around, it was time for checking in at the Denver Coliseum. Performance times were being pushed back for mat cleanings which led to a tiny bit of stress allowing for the amount of time left for visualisations to be cut a tiny bit short. Team check in came around warm ups began.
The beginning of warm ups went well but when it came to using the full mat, small mistakes were being made. Pyramid was not quite hitting but as Coach Monique Dominguez said, "This is where the small mistakes are supposed to be made." When the team was on deck, all the coaches gave their last words of encouragement and then walked to the coach's box with spirits high.
The preliminary routine went just as planned with all stunts hitting. All were so proud! Waiting began for the announcement of the teams that would make finals. All of those who saw our routine came up saying how excited they were for us and how sure that we would make finals. When the time came, our name was called as the fourth team to make finals. Little did we know, we were actually in second place.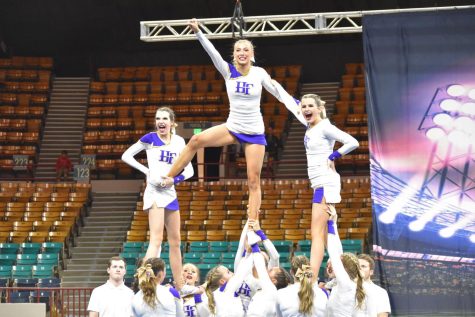 Entering finals, warm ups went similar to prelim warm ups which could be classified as a good sign. As this was the last time the seniors would perform on a cheer mat in front of judges, it was all or nothing. As the team played it safe in prelims, it was up to the team to push even further for finals in order to secure either of the top two spots. Despite a minor bobble in the pyramid, the HF Cheer Team hit their second zero deduction routine of the day.
Nerves were the highest while awaiting the grand announcement. When the team realised that only first and second place were being announced, we realised that if we did not hear "Holy Family" announced then that means we would not know our true placement. Fortunate enough, we were able to hear our name announced as the 2022 4A All Girl Traditional Cheer State Runner-Up.  Although some might say that it is only second place, keep in mind, the Holy Family Cheer Team has been built from the ground up this past season. This is also the first year that Holy Family Cheer has competed in the traditional All Girl Cheer division and placed 2nd out of 27 teams. It is seen as an incredible accomplishment after all the hard work that this team has put in over the past 9 months.
Head coach, Alissa Gutierrez, recognizes all the hard work put into this season and believes it has all paid off: "The girls worked so hard and for them to basically come from nothing and not knowing their potential; and then just wanting to make finals to ending up runner-up is the most incredible feeling." The current seniors on the team have been waiting four years for this moment and if you asked any senior on the team, they would say this year has been better than all the rest.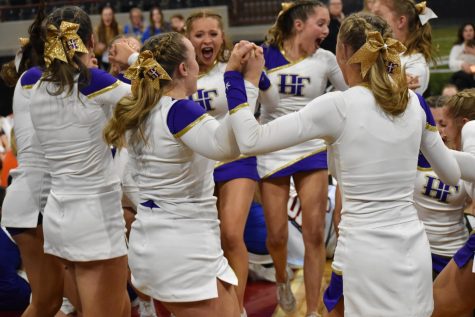 Despite going above and beyond completing the team's goal for state, winning is not the most important thing that came out of this year. This year I, personally, have learned so much more than I could have ever imagined. I have been pushed beyond my limits and have learned so many new skills that I would have never even thought about being able to do before. This has been the season of a lifetime and I couldn't ask for anything more.
Final Scores:
Erie (1): 93.95 ; Holy Family (2): 88.6 ; Grand Junction (3): 85.15