The Elf on The Shelf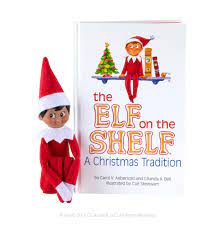 Holy Family has a new visitor, the elf on the shelf. 
The elf on the shelf is a more modern tradition for families around Christmas time. It has become a tradition to get families and children excited for Christmas within the span between Thanksgiving and Christmas. 
Common knowledge about the elf on the shelf is that every night they report back to Santa and let him know if they have been naughty or nice. Then the elves come back to the houses and hide in a new spot waiting for the children to find them. It is also well known that Santa said that you cannot touch the elf, or else it will lose its power and they won't be able to fly anymore, keeping the kids away from touching and moving them. 
Carol Aebersold and her two daughters published a children's book in 2005  called "The Elf on the Shelf: A Christmas Tradition". The book would come in a box with the elf inside. It soon became very popular among US families especially those with younger children. 
Father Joe has implemented an elf on the shelf into our school. It is fun to find it every day while you're at school. We voted as a school on the campus ministry Instagram page and have decided on the name Fernando. It has been found on top of the clock, in the window, and inside the office. I think this will become a new Christmas tradition at our school.
The longer the elves are around the more creative their hiding places get.