Football: Tigers Take on Playoffs
Ending their regular season in a winter wonderland, Tigers came up victorious against Kennedy High School. Tigers ended their season with what couldn't have been a better senior night in snowy conditions. Despite the weather, they defeated Kennedy 36-6.
With an overall record of 7-3 (4-1 in league), the Tigers find themselves sitting at the number 7 spot. The Tigers difficulty in schedule helped their seeding placement and gave them a right to host a home playoff game this Saturday. The Tigers drew number 10, George Washington. Their record sits at 9-1 (5-0 in league).
Looking at the first round game specifically, the Tigers are pretty confident. The one thing you need going into playoffs is confidence, but not cockiness. A team can't go far without confidence, but can be humbled easily with too much cockiness.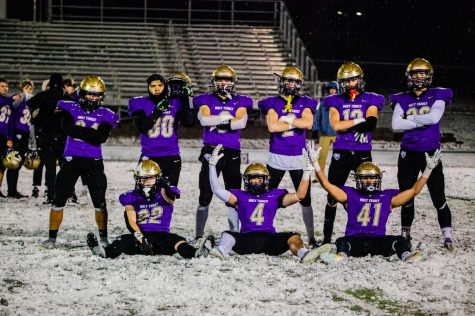 Now looking at the game itself. The Patriots strongest part of their team is their run game. Having 2 backs with over 1,000 rushing yards each makes them a threat in the run game. However they struggle with the passing game.
The Tigers have a balanced run and pass game. Having close to 2000 rushing yards and passing yards each, they are an all around threat on offense. 
"Our chemistry as a team has gotten really good" quarterback Rylan Cooney says on the growth of this team, "And if we play how we have the last few weeks, we will come out with a win."
Ultimately when coming to playoffs the Tigers have to play their best ball all 4 quarters if they want their season to continue. As long as they contain the run game and connect on all cylinders they should have no problem on Saturday. 
Going into playoffs the mindset of the Tigers has changed dramatically. From here on out it's win or go home. Heading into the playoffs the opponent is just going to get harder and harder. 
"Seniors, this could be your last Monday practice ever," Coach Gabriel's words in the Tigers weekly meeting. Emphasizing the realness of playing your last snap of football ever. This quote really stuck with not only the seniors, but the rest of the team as well, knowing this could very much be their last game this year.
This set the tone going into practice for the Tigers and all they can think about is a playoff one. Multiple playoff wins.  
The good thing about seeing harder opponents is Holy Family has seen the top 2 teams in 3A and the number 2 team in 4A. The Tigers have seen how the best teams have played and by no means can you count them out for competing with the best.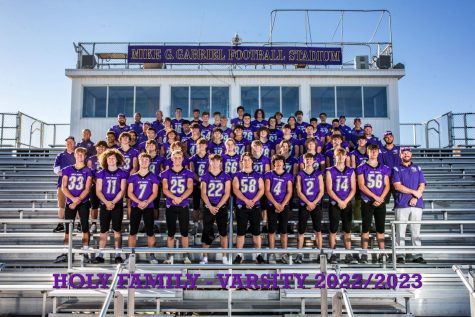 "I am very confident in this team. A lot of young guys had to step up this season but we're about 15 weeks in and I couldn't be happier with this group." Senior Nic Christoff shares about the team, "We have a lot of momentum and it can take us however far we want to go."
3A football as a whole this year, hasn't been more open for any team to win. The young talent the Tigers have can really turn into a great playoff run… potentially a state championship.