Ryan…Ready for Action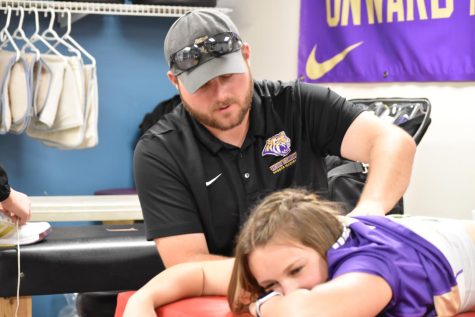 Love him or hate him, Ryan Lawhead is our trainer.
Ryan had started working as Holy Family's trainer in the year 2019. His job entails stopping soon to be injuries, helping athletes struggling with injuries, and rehabbing kids who were injured.
Ryan loves his job as it has its rewards of getting to help kids get back into the sports they love.
However, this job also poses challenges to him as well. No athlete wants to hear that their season has come to an early end, which unfortunately is Ryan's job to break the news. A lot of the time it is difficult for student athletes and even some coaches to understand that he truly has the best interest of the kids in mind. He wants athletes to be able to compete in their sport, but not if they are injured. He is not going to hold kids out for every bump and bruise, however he will hold them out until the student athlete is as healthy as possible.
As a junior, he had a severe injury. This had caused him to spend a lot of time with his school's physical therapists and athletic trainer.
"The more you learn about this profession you are not only there for injury evaluations, rehab, and treatments, but you can also be a resource for athletes to reach out and know they have a safe space to discuss life when they aren't having a good day," he said.
Going into his senior year of high school, Ryan had no idea what he wanted to study in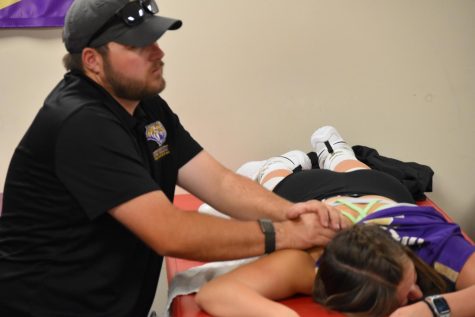 college. However, after taking an anatomy class and rehabbing from past injuries, the medical field had become appealing to him.  
This year is Ryan's fourth year as our school's athletic trainer and the job never ceases to intrigue him.
"My favorite part of my job is having something different everyday, it keeps it interesting and never gets boring," said Lawhead, whose room is always bustling with activity after the final bell.
Even though Ryan is new to being a part of Holy Family, he looks forward to continuing to grow and improve as the athletic trainer for us.