Holy Family Softball: A Season to Remember
The Tiger's 2022 softball season has come to an end. We finished with a 24-5 record as 4A NCAC League champs and 4A state runners-up. The final game was played against Lutheran and ended 3-0 in Aurora.
This was not the outcome the team had hoped for. The hard work we put in every single day, the connection we built, and the memories we made will never be forgotten.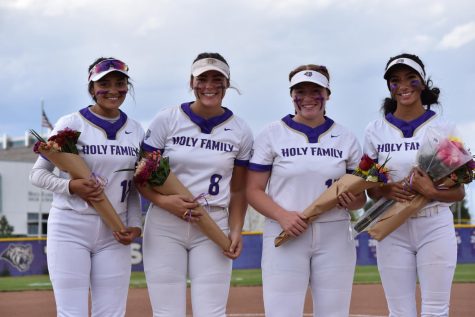 We say goodbye to our four seniors, Sierra Nanez, Brissa Campos-Aragon, Hanna Juencke, and Katelyn Morris. Sierra, Brissa, and Katelyn will not be continuing their softball career into college. Hannah hopes to continue her softball career into college, specifically Division 1 West Point Academy softball. Katelyn hopes to pursue a career in engineering, Sierra in law, and Brissa in sports media. You can still support Brissa who plays for our band and Katelyn who will play for our girls basketball team and tennis team.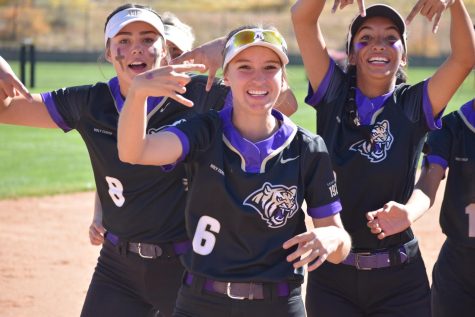 Our team leaders this season were junior Kaylee McDonald hit .519, sophomore Izzy Arroyo with an on base percentage of .570 with two home runs, junior Tea Whitlock with nine stolen bases, and Izzy dominated in the circle with and ERA of 1.19, and sophomore Makaila Moosbrugger with a fielding percentage of .988 behind the plate. Some of our season highlights were beating Mead three times, winning a tough game against Windsor to become league champions, and making it to the state championship game.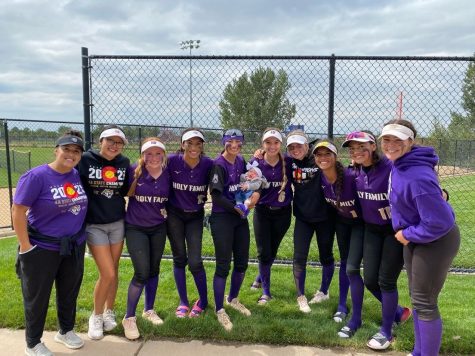 This season we welcomed to the team senior Brissa, officially sophomore Danielle Duran, sophomore Katie Willeto, freshman Giuliana Magnetti, freshman Jaelyn Sandoval,  freshman Emmaline Humphreys, and manager sophomore Alyssa Quintana.
Emmaline has joined Izzy to create our killer pitching duo and Danielle is finally able to play to be our killer shortstop… short indeed. We also welcomed baby Tiger Lily! Coach Moriah welcomed to the team her gorgeous baby girl and her Tiger life has begun already, seen sporting Tiger gear at the young age of 2 months old.
Next year I know the girls will continue to be one of the best teams out there. We built lasting memories not only playing together, but dancing together. I hope next year more people will come to support this amazing group of girls because they deserve it for always putting up a great fight against every team. Congratulate your Tigers for the beyond great season they had and get ready for an amazing 2023 season.