Essential Workers: The Lifeblood of Society During the Pandemic
Not everyone has been confined to their homes during the COVID-19 outbreak.
These heroes were recognized by many companies, organizations, and governments from the beginning of the outbreak in a variety of ways. In particular, companies provided hazard pay or gifts, and some news sources shared specific individuals' stories on their programs.
Essential workers come in a variety of different careers, the most commonly known being either in a medical field or grocery store clerks.
Some other, equally as important, essential workers that were required to go into work include the warehouse and shipment workers who delivered our (extensive) online shopping orders; the electricians who provided our homes with power so we could go online (all day); and food and agriculture workers that provided us with (a lot of) sustenance.
No matter what field, every essential worker has been working nonstop to help the rest of us stay home and stay safe.
Throughout the quarantine, my siblings and I worked together at King Soopers. Every day as employees clocked in for their shifts, lines of customers waited outside. The stock workers rushed to get toilet paper and cleaning supplies onto the shelves. Managers worked frantically to keep every customer satisfied despite the growing number of items out of stock.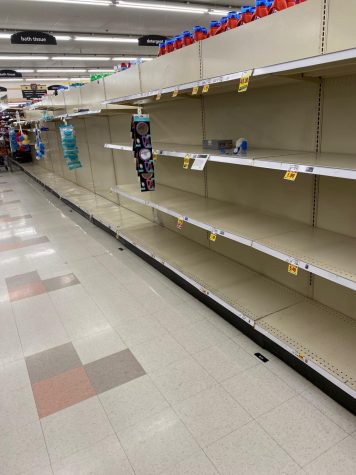 While grocery store workers took care of the healthy in quarantine, my mom and other healthcare professionals continued to help the sick and injured.
I had the privilege of hearing firsthand stories from a nurse on the COVID-19 floor of a hospital everyday from my mom. She has been working as a nurse for about 20 years, and she worked at North Suburban Hospital from the beginning of the COVID-19 outbreak. My mom can confidently say that this is unlike anything else she's encountered.
All nurses, especially those in charge of specifically the COVID-19 patients, worked tirelessly and selflessly to nurture the ill back to health. The shortage of personal protective equipment (PPE) such as gloves and masks in hospitals left many healthcare workers feeling exposed and unsafe. Though hospitals take extensive measures to reduce the exposure of the virus, there is no way to fully prevent patients from transmitting the virus to healthcare workers.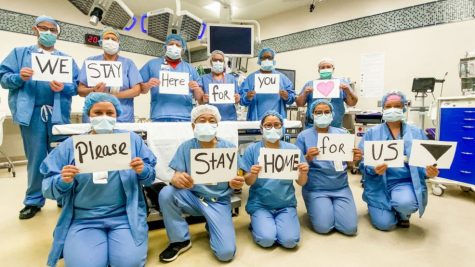 My mom shared her fears of bringing the virus home with her and spreading it to us or to her parents. Her selflessness pushed her own health to the back of her mind. She cared more about the health and safety of others than herself. Pure consideration for others is a common theme among all healthcare workers.
My mother's courage and the strength of all essential workers is something to be admired. We may think that wearing masks all day for school is difficult, but many essential workers worked overtime without any breaks from facial coverings.
And while we run away from the risk of exposure, our nurses walked with heads held high into hospitals with direct exposure to COVID-19. While we searched for toilet paper and Clorox wipes, grocery store employees worked day and night to stock shelves.
Essential workers deserve recognition, regardless of whether there is a global pandemic or not. COVID-19, thankfully, brought initial attention to these careers, but it is our job to ensure that this recognition remains.