Tim Trostel Racing: Living the Dream
At just 17 years old, Tim Trostel already has taken the racing scene by storm.
Growing up with racing not in his family, it was a shock to his family to see Tim go down the racing path this early in his life. Being as young as 2 years old, Tim has wanted to drive race cars and he never let that dream down.
Ever since Tim was a kid all he could think about is becoming a racecar driver and he was determined to do so. As early as 2 years old, Tim would already know most of the NASCAR drivers and their numbers.
"I knew I wanted to race since I was 2 years old and could name every driver and their number in NASCAR," said Tim. This not only became a thing for Timmy, but something him and his father could take on.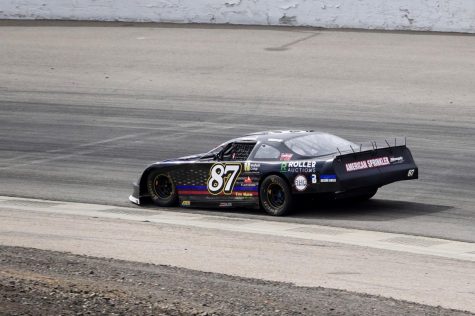 In 2008, Tim was old enough he got into Junior Karting and this became a routine part of his life. His "racecar phase" wasn't any phase. It was becoming a reality. He continued to go-kart for 10 years and achieved many accomplishments. In 2017, Tim was JR2 and Mini Max Rotex Go Kart Champion. In 2018, he was the JR2 Go Kart Champion. And in 2019, he was the JR Rotex Go Kart Champion.
Tim finally was able to move up to the next level at age 14. He was now racing in Legend Car. He raced his first race as a rookie at the very last race of the season. He was racing against experienced drivers as a rookie and still finished 14th out of the 34 racers.
Getting into the racing world is no joke, especially as a student. A lot of work goes into it and it doesn't just come easy.
"It affects my routine by taking away from my social life, everyday after school I go to the shop and work for a few hours leaving me enough time to do homework and sleep," explained Tim on what his days look like. This really becomes a full time job all year.
He continued in the Legend Car racing for the 2020 season and grew better as a racer. With this being his first official season of the next level, Tim really showed out. Winning Colorado National Speedway Legend Rookie of the Year and RMLRA Rookie of the Year. In his 20 starts in Legend Car, 5 of them he finished in top 5 and the other 15 in top 10. Each race Tim would improve building his way to the next level.
In 2021, Tim had just 13 starts in Legend Car racing before making his debut in Super Late Model racing. Finishing strong in Legend Car in all top 10 finishes and 5 of them top 5, Tim also took home 3 Semi Pro Legend feature wins. The last half of the season he made his appearance in the Super Late Model racing. Timmy got his first Super Late Model win on October 3, 2021 and also won 3 fast time qualifier awards, and one more win that season.
However Tim isn't just a one man show, he's got his whole team beside him.
"Without a good team you will go nowhere in racing. My team is my everything and without them I would be nothing." Tim gives all his credit to his team. Having such a great team has made Tim so successful.
Going into the 2022 season Tim planned on going for the championship and rookie of the year. He also planned to race 5 out of state races. Tim's racing career has grown rapidly from where he started. Having many sponsors and now being able to race out of state, Tim and his team just keep on getting better. Unfortunately Tim's racing career had hit a bump in the road and is to a halt. After a big crash in Washington, Tim and his team have slowed things down so the foreseeable future isn't what he has hoped for. Despite this crash he still plans on racing some local races and a few out of state races and hopes to get back to growing his racing career soon.