And the Avs Become Champions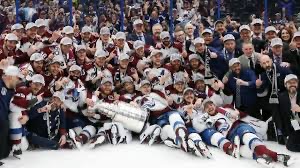 On Sunday, June 26, 2022, the Colorado Avalanche hockey team dethroned the two time reigning champions, the Tampa Bay Lighting in game 6 of the Stanley Cup playoffs in Tampa, Florida. This win made history as it was the Avalanche's first championship in 21 years and their third overall Stanley Cup. 
Tampa Bay's Steven Stamkos had managed to score first. Stamkos was able to get the puck and get it past Kuemper 3:48 into the first period, however the Av's had multiple shots that got close to tying the game. In the second period, the Avs had made their way onto the board. Tampa Bay had let the puck loose, turning it over to Nathan MacKinnon who managed to get a one-time goal past Vasilevskiy 1:54 into the second period. Finally, with 7:32 left in the second period, the Avs took their first lead in the game. Lehkonen buried a shot off a 3 on 2. After the third goal, the game got a little bit chippy, as Tampa was becoming frustrated that they could not get a shot past Kuemper. The score was 2-1 until the end of the game. Kuemper was being buring with shots but he managed to stay strong and not let loose. As the clock counted down, the players and their fans waited anxiously. 3…2…1… AND THE COLORADO AVALANCHE WIN THE STANLEY CUP PLAYOFFS. The players threw their gloves in the air and yelled for joy as they sprinted to the ice to celebrate. All throughout the ice, players were on the ground and hugging their teammates as their dreams of winning the Stanley Cup had just come true. 
After the team was presented with the cup, Cale Makar was named the 2022 Conn Smythe Trophy winner, which is awarded to the MVP of the game. Once the boys came home, the celebration did not stop. They paraded throughout Denver boasting the championship Cup for everyone to see. Now the hockey season is starting back up and the hockey fans, especially the Colorado ones, are excited to see what the season holds. Let's hope we bring home another win!