Get Ready Floridians
Florida is known for the East Coast home of Disney, its beautiful beaches, and of course the stories of "Florida Man". Florida is undoubtedly one of the wackiest states in the nation, but instead of its craziest citizens hitting the headlines, Hurricane Ian has taken over.
Hurricane Ian, the fifth of the Atlantic season, has recently been classified as a category two storm with over 100 mph winds. This is just the beginning, as it is expected to intensify as it moves into the Gulf of Mexico. 
It is expected to hit Florida as a Category 4 early Wednesday morning. Tampa and St. Petersburg is expected to face the brunt of the storm with expected storm surges up to 10 feet. The storm will bring strong winds and extremely heavy rain.
Governor Ron Desantis has already declared a state of emergency. Around the Tampa Bay area, tolls have been suspended and national guard troops have been stationed, along with many others in neighboring states. President Joe Biden has also declared a state of emergency and is expected to head down south this week. The Department of Homeland Security and the Federal Emergency Management Agency have been authorized to begin organizing disaster relief.
On Florida's West Coast, officials have been urging residents to evacuate as soon as possible. Mandatory evacuation orders have been issued for Zone A of Pinellas and Hillsborough counties. We can expect to see Zone B and C evacuated on Tuesday.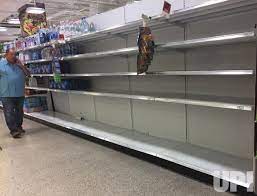 As the days pass, the demand for gas and hurricane supplies is at an all time high. Floridians are facing empty grocery shelves as the demand is skyrocketing. Grocery chains have begun to authorize limiting customer purchases of essential items. In Publix's in St. Petersburg, a customer is only allowed to purchase two 24 packs or one 32 pack of bottled water. Similarly, in Tampa, there seems to be only individual bottles of water left.
NOAA is strongly recommending that Floridians plan evacuation routes, fill your gas tanks, pack a go bag, board your windows, trim trees, and arguably the most important part, plan arrangements for your pets.