Volleyball and Soccer: A Rough Start
But Brighter Days are Ahead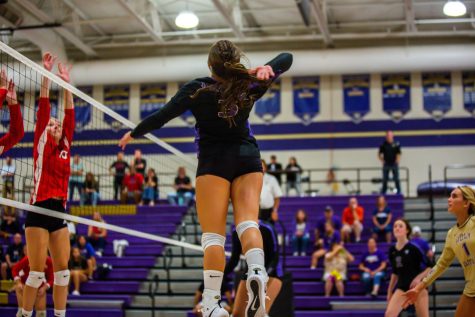 The Holy Family Tigers fall sports, notably volleyball and soccer, have had a little bit of a rough start this season.
Volleyball started 0-4 and boys soccer 0-5-1, but that doesn't mean there isn't hope. With tough schedules all around the board the Tigers struggle to keep up. But the good news is that none of these are league games and those tough games will make them better when they enter league play.
Let's start with volleyball. The season began against 5A Broomfield, as a 4A team with half the enrollment, it was a hard start to their season. Giving the Eagles a run for their money, the Tigers took the first set, but then fell 3-1.
Then the Tigers took a trip up north to take on the Frederick Golden Eagles. With another rough game Tigers were defeated 3-1. And then in their home opener , Holy Family took on the defending 3A state champions, Eaton. The Tigers were swept.
However this doesn't mean the volleyball team is done for, they just have a tough schedule to push through. In fact over the weekend the Tigers went 3-1 at a tournament defeating Pueblo West, Montrose, and Coronado.
With the momentum of three good wins for the team, the Tigers came back home to take on Regis Jesuit. Falling behind in the first set didn't stop Holy Family as they fought back to win and a thrilling 3-2 game. Some great news about their schedule is that not a single game has been a league game, and playing these hard teams is giving them a good look going into league play within next month. Their league consists of Silver Creek, Greeley Central, Windsor, Centaurus, Greely West, Mead, and Longmont. This league is a hard league, but winnable for the Tigers for sure. The good news is it's just the start of the season and that they've bounced back to stand at 4-4.
Now looking at boys soccer. The start of their season has been tough. In fact every team the Tigers have played this year are all potentially top ten teams. Facing off against defending champions Northfield right out of the gate, was a quick 2-0 loss for the Tigers. Then another loss to Northridge, 2-1. Followed by another loss to Cheyenne Mountain, 3-0. A tough loss to Skyline, 3-1. And another 2-0 loss to 5A Broomfield.
Five straight losses for the Tigers with a combined of three goals scored on the season really doesn't look good. However looking at their schedule, these teams are no joke. Every team the Tigers have played are undefeated still, with exception being Cheyenne Mountain (6-1), whose loss was to Broomfield.
The good news about this is soccer also hasn't played in a league game yet, giving them hope to be able to get out of this losing streak and do well or maybe even potentially win their league. Their league contains Longmont, Mead, Windsor, Centaurus, Silver Creek, Greeley West, and Greeley Central. The NCAC (Northern Colorado Athletic Conference) is a tough league, but nothing the Tigers haven't seen before.
They've already been against the best of the best so approaching league games could see some victories. It's hard to say how well the Tigers are going to be able to bounce back from being beat by these superior teams because they have a really young varsity lineup. The good news about this is they do see a bright future, but still don't count them out of this season. Although 0-5-1 start doesn't look great on them, their record doesn't show how good of a team this is.