Where's Ward? On the Road with Loralee (2)
My PowerSchool portal currently shows 43 total absences for my classes thus far, which means that I am still on the road. My last "blog" concluded with my visit to Children's Hospital. Against doctors' wishes, I competed that weekend in Craig, Colorado. I finished reserve in the all-around both days. I certainly ended the week better than I started.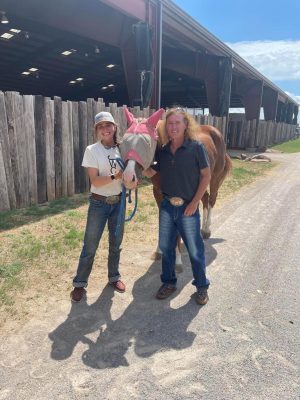 The Monday following Craig, my brother and I drove over twenty hours to pick up a two-year-old prospect. In June, I sent in an application for the LG Legacy Project, a 501(c)(3) organization. Each year, the founder, Lance Graves, pairs a few teen applicants with off-the-track racehorse rejects. Over the course of tenth months, the applicants work with their prospects. At the end of the competition, judges select the best prospect, and the teen applicant wins money.
I was paired with the only two-year-old in the program, which means "Chilton" is very inexperienced.
Labor Day weekend brought more horse showing and rodeo in Eagle, Colorado. I won 2/3 rounds in both the cutting and cowhorse—almost a clean sweep! This past Wednesday, I left for Gillette, Wyoming for a barrel horse futurity.
I have spent close to a half-month in Gillette, Wyoming, at CAM-PLEX event center between High School Finals in July and the Fizz Bomb futurity. I trekked out a path around the facility (about four miles) for runs, because it is slightly inconvenient to drive the Volvo semi around town. Beginning on Thursday afternoon to Saturday morning, Gillette brought rain and cold temperatures. I came *very* underpacked and looked like a wet rat for the majority of the time.
Barrel horse futurities mainly showcase four-year-old horses in their first year of competition. In conjugation with futurities, derbies/maturities accompany where five and six-year-old horses in their second and third years of competition are also eligible for big added money.
I won close to $1200 this weekend. Barrel horse futurities, especially of this size, host the best of the best. As an eighteen-year-old, it is the coolest feeling to compete with the Tom Brady's of my sport.
This next weekend brings Grand Junction for another high school rodeo and then Penrose. That will wrap up the month of September. Until the month of October, I plan on surviving the chaos with good company (my dog Reata) and lots of black coffee.