Welcome to Italy
On May 31st 2022, a group of Holy Family's 2023 sen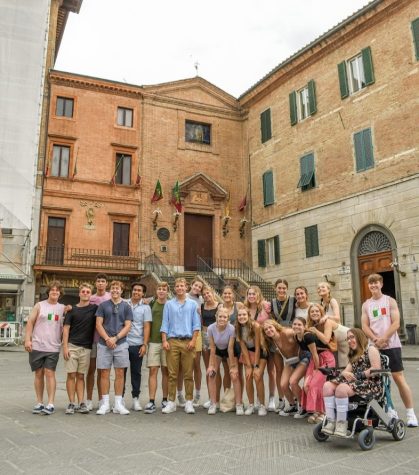 iors had taken off for their summer trip to Italy. Leading the trip was Holy Family High School's very own Mr. Good and Father Joe, as well as a few other parental chaperones. Mr. Good has been doing this trip for years so he'd known pretty well what he was doing when he had decided to take 21 seniors, including myself, out to Italy for a ten day long trip taking us to Assisi, Siena, Florence, and Rome to teach us all about the Catholic life and history that Italy has to offer. 
As we got to the airport Friday morning, we were all in good spirits as we prepared ourselves for the long 12 hour flight ahead of us. Once we landed however, our spirits had still not diminished as we all looked forward to going out and seeing Italy. Once we landed in Rome and we got off the plane, we made it to our bus, which was driven by a man named Fabrizio. From there we had a three hour drive to the beautiful city of Assisi. About halfway through the drive we stopped to see the Ostia Antica ruins before we hit the road once again. While back on the road father Joe and I even started a podcast!
The city of Assisi was the smallest city we visited. It was certainly the most beautiful in my opinion just because of how green, quiet, and clean it was. We stayed in Assisi for about two whole days. In this time we got to taste amazing food, go on beautiful hikes in the forest, see some stunning churches, shop, and have mass. I also had the amazing opportunity to go for a run with Mr. Good one morning before breakfast. My favorite part about Assisi was getting to go on a hike to a very special part of the forest where we got to experience a once-in-a-lifetime mass.
Next we hit Siena. The city of Siena was a little bit different from Assisi because it was slightly bigger, louder, and it had more people. The city also had an amazing square in the center of the city named the Piazza del Campo which was surrou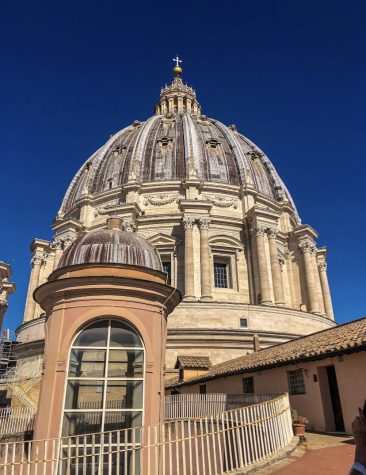 nded by restaurants and was constantly filled with people. During our time in Siena we got the opportunity to see some more churches, eat at some good restaurants, learn about St. Catherine's life and see her relics, and we even got to take a cooking class where we got to learn how to make three different kinds of pasta! That personally was my favorite part. While we spent a few days in Siena, we also got the chance to have a day trip in Florence. While in Florence we were able to go to these cool leather and gold shops, which had some of the prettiest jewelry I have ever seen and we got the opportunity to climb the Dome. 
The last city on the agenda was Rome, which was an amazing city to see. We were able to see the Vatican as well as the Vatican Museum, go to the Uffizi Art gallery, which features work from some of the greatest artists to live, climb another dome, and see even more churches such as St. Peter and St. Pauls. Once again we were able to taste amazing food and gelato and we got to hangout in the Piazza Navona (the town square). We even got to see and have mass with Pope Francis up close which was amazing. However, I have to say, the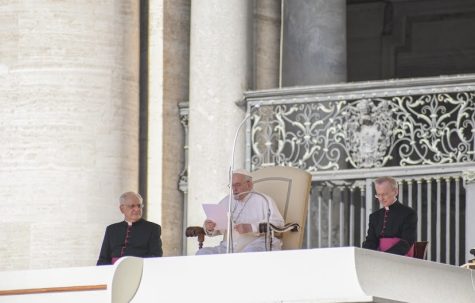 last night of the trip was the best because we got to see the Colosseum, go to the Bone Church, and eat dinner one last time together and reminisce on the memories. We also got to see the Trevi Fountain which was absolutely stunning. On this night Father Joe and I had also gotten to finish the last episode of our podcast.
The next day, we left for the airport and once again prepared ourselves for the long 12 hour flight. We got back to Colorado on June 10 around 3 pm. The flight back was nothing special but when I landed I was super upset to be back. I have always wanted to go to Italy so this trip was truly a dream come true. It was so much fun and I hope to get the opportunity to go back soon!