Football: Tiger Football Future
With a stacked senior class leaving in 2022, the Holy Family Tigers football team is left with a roster with little varsity experience.
A total of 29 graduated seniors the Tigers offense only has two returning starters on offense, sophomore offensive lineman Matthew Sakkaris and junior quarterback Rylan Cooney. The upcoming 2022 season for Holy Family consists of a young team and small upcoming senior class. This means there will be some young talent to look out for during the new season.
Cooney is going to be a good player to watch this year. With almost a whole season of varsity experience under his belt Cooney plans to lead this team to great things. After a breakthrough game in 2021 against Frederick, Cooney threw for six touchdowns and over 300 yards to win an overtime game. With the first week approaching, the Tigers drew their rivals, Frederick Golden Eagles. After an intense game last season, this is one game to look forward to.
"Just got to do what I did last year and I got a good O line and good receivers to help me," said Cooney, after one of his best games of last season was against Frederick. He's got a whole lot of confidence heading into week one.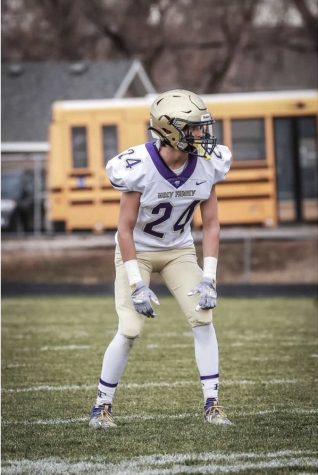 Cooney has also developed into a great leader these past few years in the football program especially after taking the starting spot as a sophomore. With a young team behind him and a great coaching staff, Cooney really has potential to lead this young team to great things.
"For the offense this year we have two major goals. To score 42 points a game, the second one is to score first drive. Scoring 42 points a game should win you every game. Scoring the first drive sends a message to the other team that we are here," Cooney says about his offense going into the new season. These are high goals set that Cooney believes can easily be accomplished. "And the goal is to win a state championship," Cooney adds.
Another player to keep an eye out for is senior running back, Chase McNaughton. Last season McNaughton backed up Jacob Lawver, but still found his way on the field. With rushing for over 400 yards and receiving for over 200 yards as a backup, he was a key player to the offense. Chase will find himself as the starting running back being able to do even more damage this year. Unfortunately suffering a foot injury in the summer McNaughton has had a slow start to the season but is expecting to be playing in week one against Frederick.
The tiger offense is not the only thing seeing changes going into the new season. Old defensive coordinator, Joe Bravo, retired after last season. Coach Frank Ybarra is now taking over his role. This will be Ybarra's second season with Holy Family but has really fit in with the team. Over the offseason with a bigger role in the coaching staff, he pushed the team harder than they have ever been pushed and has helped them grow as a team. Being in the weight room all summer long with the players was just his first step in making the Tigers a better team.
Along with the offense, he also has a young group of guys running his defense, one being junior Mark Mollendor, the other senior Jace Gunderson. As a sophomore Mollendor worked for his spot on the field and is now leading the defense as a middle linebacker. Gunderson has become a great leader in the football program with being on varsity since a sophomore. Both are ones to look out for on the defensive side of the ball this season.
Finally, sophomore Anderson Osburn is a young player with great talent. Starting at defensive end as a freshman with a stacked senior class ahead of him, showed his talent from the start. Playing on both sides of the ball this year Osburn looks to be a great contributor to the team and one that will develop into a young leader on this Tiger football team.