Where's Ward? On the Road with Loralee (1)
On numerous occasions throughout my three years at Holy Family, I have been asked whether I dropped out, got sick, changed schools, etc.
I travel nearly every week to compete, and this accounts for the majority of my excused absences.
Mr. Yunt suggested that I start a travel blog of some sorts. Unfortunately, our traveling lacks the glamorous aspects. The late night and early morning drives hide any beautiful scenery. Competitions take us to facilities that are well off the beaten path.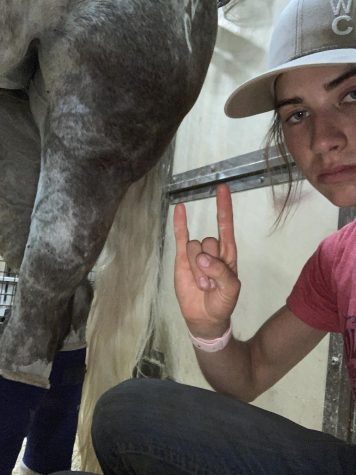 In fact, there are some stretches of driving where, as my brother Kody states, "You need a bungee cord connected from the steering wheel to the gas pedal."
I started the month of August in Oklahoma City, Oklahoma, at the State Fairgrounds. OKC offers the absolute worst climate— hot and humid.
I made the finals on all my horses, which was a huge win.
I also attended a cross-fit class where I was the only English speaker. The next week, we drove to Rock Springs, Wyoming. My mom coined this town "Dead Rocks." Rock Springs is quite literally the armpit of Wyoming. I ended up winning the youth average for the weekend.
This past weekend, my mom and I drove to McCook, Nebraska. This town hosts a Walmart, and that's about it. I won some money, which made the stay more tolerable.
Finally, I started this week at Children's Hospital on Highway 7, hence why I have not been at school. I would not recommend visiting this venue, unless you have to. I am supposed to go to Craig, Colorado, this weekend pending on how I am feeling.
That's a wrap on my August. My attendance for my senior year holds at a whopping 25 percent! It can surely only go up from here.