Mr. 305 in the 303
Pitbull's Show at Red Rocks was Amazing
Pitbulls "Ca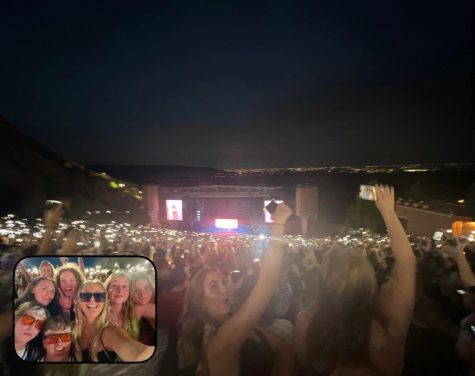 n't Stop Us Now Tour" made an appearance earlier this month at Red Rocks Amphitheatre.
Australian rap sensation, Iggy Azalea, and Jamaican rapper, Sean Paul, the concert offered a variety of music styles. To the audiences surprise, Mr. Worldwide even brought a country singer on tour with him. 
Arguably the most exciting part of the concert was the crowd's energy. At 6:40, 10 minutes after doors opened, most of the amphitheater was full. The general admission section was packed to the brim with an excited fanbase, while the VIP sections were filling up by the second. The crowd was not like any other, as many fans dressed up as Pitbull. Some of the audience members went all out as they wore full suits, bald caps, and even faux facial hair. The audience was a sea of Pitbull cut outs, funny signs, and screaming fans.
The show opened with Iggy Azalea, and the crowd went insane. She opened with her hit "Work" and soon began playing more of her well known songs such as "Black Widow". She ended the night by singing "Fancy", it almost seemed that everyone who was in the audience knew every single word to this song. She ended her performance by sharing her excitement to be at Red Rocks and her love and appreciation for Pitbull.
After what seemed like a forever wait, Pitbull finally took the stage. He began with the song "Don't Stop the Party", which seemed perfectly fitting to start the concert off too. I honestly didn't know too much about Pitbull before the concert, but to my surprise, as good of a performer as he is, he is also an amazing human being. He shared throughout the performance what seemed to be his testimony, his life of being a Cuban-American and the universal language, music. "It doesn't matter if you are black, white, yellow, purple, pink… you can still speak and enjoy music" he said.
I think I can speak for the crowd when I say that we did not expect a country singer to make an appearance at the concert. Fillmore and Pitbull teamed up earlier in the year to create the song "USA". Exactly what the song title explains, "USA" is all about having pride for your country. The crowd ate this up as the "USA" chant lasted for at least 10 minutes. Pitbull explains that he brought Fillmore because he believes in giving opportunities to up and coming singers, as Eminem did for him once. 
Honestly, this concert was a must-go for me. Both Iggy and Pitbull amazed the audience, and their guest singers wowed us even harder. This is Pitbull's second appearance in two years, so I have no doubt that he will be back soon. Till next time Mr. Worldwide, and remember that everyday above ground is a great day.