Holy Family Night 2022: Powderpuff Prophecies
As the majority believed that the juniors would dominate this years powderpuff game, the night would finally come to an end with a kickoff leaving the seniors victorious.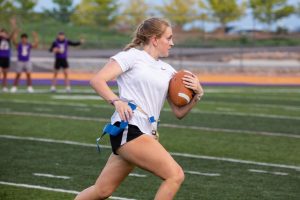 The night began with the seniors playing the freshman and sophomores against the juniors. Seniors obviously dominated the freshman leading 24-0 by the end of the game. Meanwhile, the juniors struggled to keep off the sophomores but eventually managed to take the win with a 16-12 score.
At the last game of the night, the seniors had no mercy. Many hits were made from player to player even though this was only a flag football game.
"It was fun," said senior Olivia Bertagnolli, "But the juniors were a little upset they lost."
Connor Henkel, the defensive line coach for the seniors claims that "defense wins championships." Henkel's words stand true. Some broke a nail, others were left with bruises and in the end it all came down to a kickoff.
Addy Kusek, kicking for the seniors, was the only hope in order for the seniors to obtain the dominant spot in powderpuff.
Junior, Sydney Howorko, was kicking for the juniors and ultimately fell short in the end. Will Nolan, another senior powderpuff coach, claims that, "the win was great. It was a shaky start but we finished well and I'm glad we were able to win after the difficult loss last year."
After the final field goal kicked, it was defined that the seniors had won their final powderpuff game.
Did the seniors win only because they learned from their mistakes after last year or was it based on luck? We will never truly know how the seniors win but it is better to go out winning rather than losing.