A Crazy Situation in Crazy For You
This years spring musical production of Crazy for You things didn't completely go according to plan. Originally, the two leads were cast as senior Brennan Musgrove taking on the role of Bobby and sophomore Erin White taking on the role of Polly.
Unfortunately a few weeks before show week, White was injured while playing volleyball. She tore her MCL and had to undergo surgery that left her in a straight-legged brace.
The cast was completely shocked by the events and heartbroken for their friend that had put in so much work into the show thus far.
White had spoken to her directors Rebecca Barger and Talise Chandler about getting an understudy after she was injured.
I was told about three weeks before the show that I might have to learn the role of Polly. Once White had gotten her surgery later that week, it was confirmed that I needed to prepare to perform as Polly.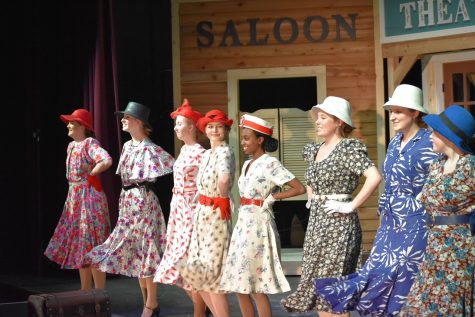 Originally I was cast as Patsy, a stereotypical ditsy show girl and had learned all of the follies girls dances. I was really excited to play this part as I used to dance at the Colorado Ballet from when I was five until about eighth grade. I still have a love for dance and was having a lot of fun with the follies girls and working hard to improve our dances.
Senior Sessina Abraha was bumped up to the role of Patsy which she did and incredible job with for such short notice and had the audience laughing throughout all the shows.
I was very sad for Erin when I was told she was unable to perform because we have gotten to be such good friends this year and she is extremely talented and had definitely earned her place as a lead. I was honestly scared to take on a lead role so late in the game because the only experience I have with theater has been the few productions I've done with Holy Family. I only started singing my freshman year and didn't feel that I would do the part of Polly justice.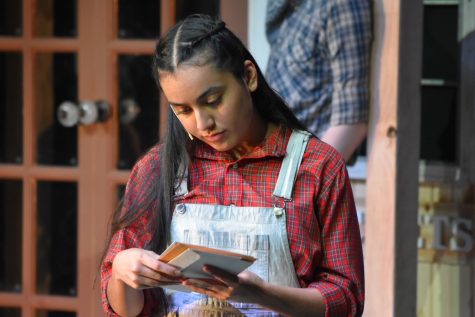 Although she was devastated that she couldn't perform, Erin was so supportive of me taking on the role. She always sang along with me during rehearsal when I was lost or scared I wouldn't hit the right notes. Erin kept showing up to rehearsals and cheering me on while I learned the new dances and lines.
I was also helped a lot by Brennan who has had a lot of theater experience and has been performing for a long time. He helped me with line memorization and ran dances with me over and over again so that I could memorize them. Brennan also made sure that I took water breaks and stopped to catch my breath after dances before starting again.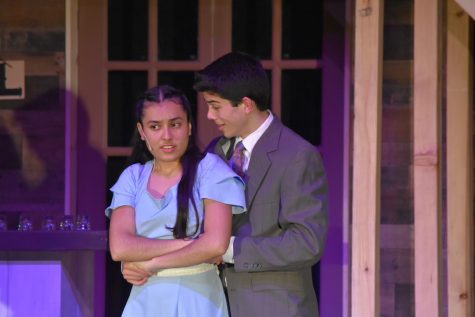 Overall the entire theater department was so encouraging throughout the process and made me want to push myself to do better. Although I don't have that much experience with musical theater, I've grown so much because of this opportunity and ultimately I'm proud of what I was able to accomplish in the time I was given.
I think I will continue to be a part of some kind of theater in college and I am so excited to come back next year and see Erin absolutely kill her next role and finally get her time in the spotlight.