Crazy About This Musical!
A review of the Theatre Department's annual Spring musical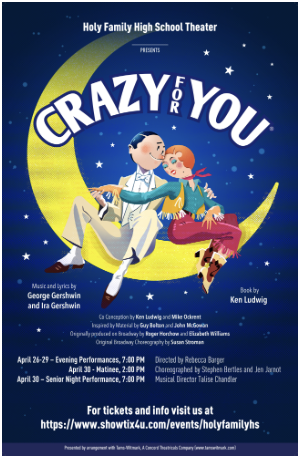 This year, the Holy Family Theatre department  put on Crazy For You, a romantic comedy musical by Ken Ludwig. When it arrived on Broadway in 1992, it was a massive hit and swept throughout not just only America but the world as well.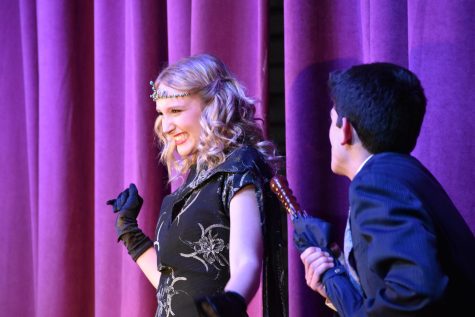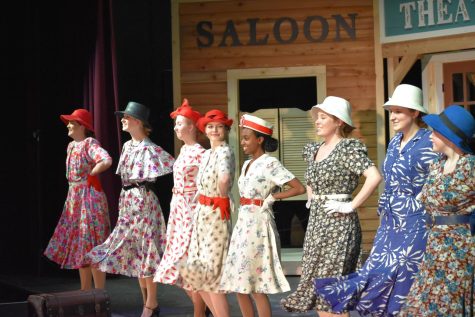 The musical takes place in the 1930's and tells the story about a banker named Bobby Child who is a banker and who loves the theatre and is obssed with Zangler's Follies yet his mother sends him out to default on a morgage in Deadrock, Nevada. Yet when he arrives he falls for Polly Baker, a sweet yet sturdy postmistress, her father owns the Gaiety Theatre which Booby has come to seize. "Bobby comes up with a plan: call in his friends, the Follies Girls, all the way from New York City, cast the locals– a bunch of rundown cowboys with latent musical talent–and put on a show to save the old building. Polly falls in turn for the enthusiastic young man, but feels angry and betrayed when she discovers that he comes from the bank. In order to spend time with the furious Polly, Bobby disguises himself as Bela Zangler of Zangler's Follies, all the better to produce and direct. But while "Zangler" is talking up Bobby to the unsuspecting Polly, Polly is falling for the impersonation of dashing, European Zangler…. and when the real Zangler arrives in town, chasing Tessie, his beloved dance captain, things really get 'Crazy!'"
Director Rebecca Barger stated,"The spring musical Crazy For You, was such a joy for me to direct.  This show is special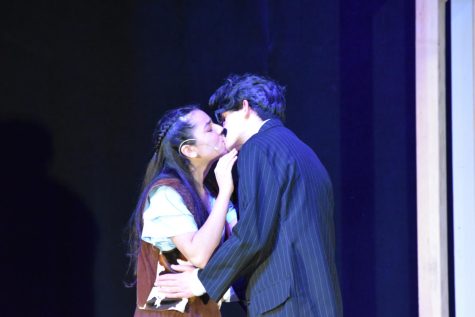 because it has timeless 1930's music from the Gershin brothers, and a fun boy meets girl plot.  I was constantly smiling and laughing through the entire process.  The students learned incredible tap dancing, singing and comedic timing by putting on this show.  While this show had many challenges along the way I felt like the cast and crew came together to put on one of the most fun and amazing shows we have had at Holy Family and I could not be more proud!"
With the lead roles of Bobby Child and Polly Baker being giving out to Brennan Musgrove and Isabella Marquez, originallyErin White,  these two talented actors enchanted the audinece with great tap dancing, singing, and chorography. Their chemistry together is unmatched, the scenes when they were together were amazing. Even alone they did fantastic, with Brennan's amazing tap dancing and Isabella's fanstasic singing, these two definitely stole the show!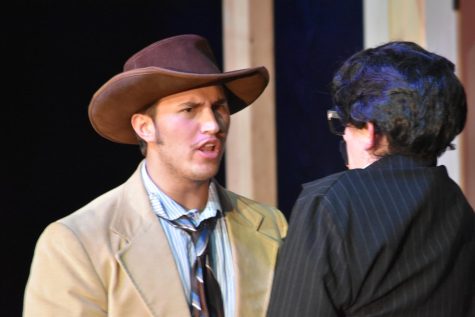 But it cant be a full musical without the supporting cast. With great actors and actresses such as Nathan Willden, Sam Genzer, Jack Cowden, Leah Fuller, Dominic Gallegos, Sessina Abraha, Michaela Woods, and many more. All of themgave stunning performances. With Nathan Willden keeping the cowboys in line, Sam Genzer and Dominic Gallegos have hilarious scenes togethers, and Leah Fuller, Sessina Abraha, and Michaela Woods making the Follies Girl shine. They all helped kept the show lively, fun, and even had their own personal story and development throughout the production!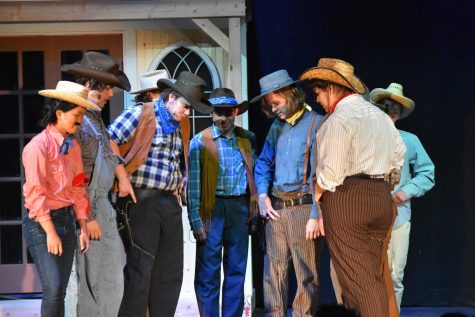 With such a crazy show such as this, none of it would of been possible without tech. The tech crew did an amazing job with the music, lights, and much more! They made the show an amazing place and took the audience truly to Deadrock, Nevada. Further expanding on Deadrock, teh set was amazing Tom Barger did an amazing job with creating and then expnading the stage outward in order to goive the actors and actresses more room to perform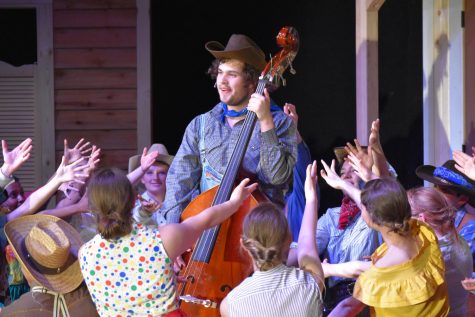 and make on teh best sets in Holy Family Theatre history to date!
The cast and crew did an amzing job when performing this fun and lighthearted musical. Filling the audience with laughter, captivation, and just being all around crazy for this production. With the stage design, tech, and acting/singing, as mentioned above, being one of the best Holy Family has had it certainly caught the audience's attention. Not only I but the community and teh rest of Holy Family are looking forward to what big moves the deparment does next with not only their musical next spring but their fall play as well! We are all waiting and eager to see what they put on next!