Crumble Review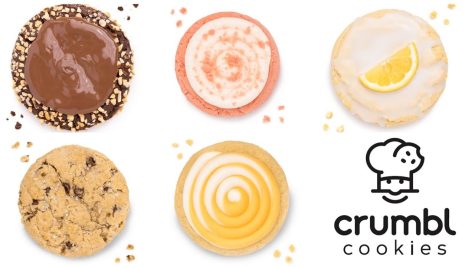 Welcome to this weeks Crumble Cookie review! Overall the cookies were decent this week, but definitely not the strongest showing we've seen from Crumble.
Mango Frozen Yogurt while having one of the better presentations for the week did not deliver so well in the flavor department. Leaving itself in last place for the week. Definitely not a bad cookie but not what I was expecting at all, I was hoping for a refreshing taste but it was too sweet and the mango frosting was personally to sugary for me. It felt like the mango overwhelmed the yogurt aspect of the cookie.
I put Mom's recipe at forth this week, not a bad cookie by any means, a classic with toffee bits, oats, chocolate chips, peanut butter chips and a little bit of cinnamon. Great cookie, just better competition.
Coming in at number three Pink Velvet was a delicious pink cake batter cookie with a cream cheese icing layer and pink velvet cookie crumbs on top. A great combination of flavors that made for a surprisingly good cookie. The cream cheese icing was sweet but not overpowering to the main part of the cookie.
Number two Lemon Glaze was a great refreshing treat that helped complete the job that mango yogurt failed to do. From the cookie to the icing to a fresh lemon slice, there are layers of delectable lemon.
And coming in first place this week Hazelnut Mudslide ft. Nutella. A thick chocolate cookie rolled in hazelnuts and coated in hazelnut spread. All I can say was this cookie was fire. As a huge fan of chocolate it's great to have an all chocolate cookie come in the box and deliver a great taste.
Well that's all folks! Thanks for tuning in to another weekly Crumble review, see you all next week!