The Overlooked Joker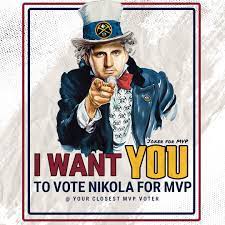 The MVP race is slowly thinning down, and Jokic and Embiid are the top two competitors.
With only three games left, Jokic has a great schedule to prove himself as MVP.
In the Joker's last seven games, he has shot over 70%, which has never been done in the history of basketball (yes even Wilt).  Over the season he has accumulated 19 triple doubles (73 on his career), averaged 26 points per game, 13 rebounds and eight assists, all while only resting for eight games!!
He is 72 points and 14 rebounds away from becoming the very first player to amass 2,000 points, 1,000 rebounds, and 500 assists in a single season.
Despite all these numbers, the Joker still has been overlooked in the MVP race, as does not get nearly as much respect from the NBA community. He constantly gets nitpicked for his "unathletic" style of play, and his lackluster flashness.
In reality there is no other player in the NBA that can do what Nikola Jokic can. He is 8th in assists across the whole league, which is impressive considering he is the only notable scorer on the Nuggets. He is 16th in steals and number 1 in help defense, which is a very impressive stat considering he is a center. He is number 2 in rebounds, behind Rudy Gobert. He is number 1 in efficiency, which measures the overall value of a player.
Stats don't lie and neither does film, hopefully over these next three games everyone else can see that.