Going For the Gold: JCL Competition
This Thursday, a collection of our Latin students travelled to the YMCA at the Rockies to compete in the annual Junior Classical League competition. Here, they performed in an array of events and tests against other schools in the area. This year, we had 36 Holy Family competitors, and we took home a gold before the real competition began! Tommy Nguyen, a junior this year, earned first in the Mottoes and Proverbs test, and fourth in the Mythology. As well as this, he has created a number of Roman shields for the Latin department, but has only submitted one for the competition, a Spartan-inspired shield. Not only Nguyen managed a place on the podium, but Anne Galmish, a sophomore, managed to place second in the Roman Daily life exam!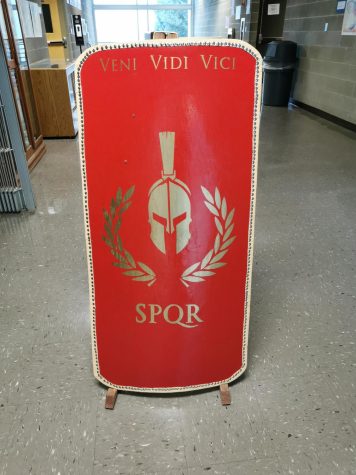 In the other competitions, Dr. Gumerlock said, "I think that the students will do very well this year. I think they will win many places in art and handicrafts, Olympika, catapults, and Performing arts."
And that was certainly not untrue! Johnny Morris, a senior, managed a $1,000 scholarship; Noah Gochenour won 1st for the catapult competitions; Luc Morris placed 1st in Psyche's Task; Sterling Smith got first in the jewelry competition; Leo Taranto earned 1st in the English Oratory; Hannah Thelosen placed 1st in the Large Model competition. So many more students who earned high rankings within this competition!
Holy Family most certainly came in swinging! All of our students claim that it was very exciting and fun; especially with the fact that our school brought home the Spirit Award! Needless to say, we definitely came, saw, and conquered!