UFC 272 Recap
Main Card
Sergey Spivak(14-3) vs. Greg Hardy(7-5)
If the 'Greg Hardy does MMA' experiment hasn't died yet, it's at least on life support. On Saturday, Hardy, 33, didn't last long against Moldovan heavyweight Sergey Spivak, who brought him down three times in the first round and ended the fight with blows at the 2:16 mark. With the loss, Hardy fell to 4-5 in the UFC and 0-3 in his previous three fights.
Hardy, a former NFL defensive lineman who switched to MMA in 2017, has battled to stay competitive as his UFC career progresses. He entered the UFC early in his career and showed promise as a young fighter, but he hasn't been able to compensate for weaknesses in his wrestling and cardio. That was the case here, as Spivak put Hardy down, patiently waited for him to get up, and then switched to side mount for the finish. Hardy has been defeated in each of his three recent defeats. Spivak is now 4-1 in his previous five games, but he was not ranked in the Top 15 before into this weekend.
Kevin Holland(22-7) vs. Alex Oliveira(22-12-1)
Right now, the decision to lose weight and drop to 170 pounds appears to be a good one. Holland caught Oliveira with a right hand and then poured it on with ground and pound in the second round, finishing at 38 seconds. The crowd erupted in applause as the fan favorite crossed the finish line. Oliveira, often known as "Cowboy," lowered his head to avoid an attack, but Holland caught him with a sneaky right punch and knocked him out. Holland jumped on Oliveira on the mat, unleashing hard punches and elbows until referee Chris Tognoni yanked him off.
Following that, Holland baited Donald "Cowboy" Cerrone, who was in attendance, with a challenge. In his postfight interview, Holland said, "Honestly, I don't know who I want next." "I only killed one Cowboy. I don't want to be the one to call out another." Oliveira had a strong opening round, taking Holland down twice with powerful takedowns and heavy right punches. Holland had his moments as well, but admitted that he "came off a little flat" in his welterweight debut. Holland, 29, had lost his previous three middleweight fights in a row. The Texas native had a fantastic year in 2020, winning five fights and tying the UFC record for most victories in a calendar year. Oliveira, a 34-year-old Brazilian, has now lost four consecutive games.
Edson Barboza(22-11) vs. Bryce Mitchell(15-1)
Early on, Mitchell appeared to need to get the fight to the ground after absorbing lower leg kick after lower leg kick from Barboza, who has spent his career concentrating in injuring opponents with kicks. So he did – with a straight left hand that downed his slick-striking opponent, rather than a takedown. Mitchell's sixth straight win in the UFC began with this dominating performance.
Only Alexander Volkanovski, the men's featherweight champion, and rival Arnold Allen had longer winning streaks at 145 pounds, with both having won eight in a row. After the knockout, Mitchell, a 27-year-old from Searcy, Arkansas, had Barboza on his back for practically the whole fight. He secured his takedown in the second round after only 20 seconds. Barboza took a full minute to get to the canvas in the final round, but once there, he unleashed a brutal beating all the way to the bell. Mitchell won the bout by scores of 30-25, 30-26, and 30-27, according to all three judges. Barboza, a 36-year-old Brazilian, has lost two of his past three fights and five of his last seven overall.
Rafael dos Anjos(31-13) vs. Renato Moicano(16 – 5 – 1)
With a left head kick in the third round, Dos Anjos of Brazil nearly terminated the fight. Moicano was knocked down by the kick, and dos Anjos pounced on him with hammerfists. The action was closely scrutinized by referee Marc Goddard, but Moicano eventually regained his composure and survived. Dos Anjos received 50-44, 49-45, and 49-44 from all three judges. On Feb. 19, Dos Anjos was supposed to fight Rafael Fiziev in a five-round main event. When Fiziev, of Kyrgyzstan, was unable to enter the United States last month due to visa complications, the fight was rescheduled for Saturday. When Fiziev contracted Covid-19 this week, the plan was completely canceled. Moicano, who fought at UFC 271 last month, agreed to fill in for Fiziev on short notice and at a catchweight of 160 pounds. Moicano did his best, but he was clearly in over his head. Dos Anjos outmaneuvered him on the ground for the entirety of the battle and busted him up onto his feet.
"I want to thank Moicano, Dana White, and the UFC for making this fight possible," stated dos Anjos. "A large number of people fled. Moicano was victorious. Impressive. On a five-day notice, I'll be doing five rounds. It was difficult for me as well. I prepared myself to combat Fiziev. He competes in Muay Thai. Moicano's ground game is outstanding." According to unofficial UFC statistics, dos Anjos landed 179 total strikes to Moicano's 81, and converted five takedowns to Moicano's zero. Despite this, Moicano, 32, completed the bout with momentum on his side, clipping dos Anjos with boxing combinations and injuring him in the dying seconds. After 25 minutes, Moicano's face was a bloody mess. After the third round, and again after the fourth, cageside doctors examined his left eye, which had virtually swollen shut. Moicano had been defeated in all of his professional losses, but on Saturday he showed amazing passion and endurance. With this victory, dos Anjos improves to 2-0 since making the switch from welterweight to lightweight. Moicano's two-fight winning streak has come to an end.
Colby Covington(17-3) vs. Jorge Masvidal(35-16)
On Saturday night at T-Mobile Arena, the foul-mouthed, divisive standout won possibly the biggest win of his career by unanimous decision (49-46, 50-44, 50-45) over former friend Jorge Masvidal in the main event of UFC 272. Covington used his dominant wrestling, pressure, and deft punching to wear down Masvidal, who hung in there until the end. "It wasn't my finest effort," Covington admitted after the bout at a press conference. "There are a lot of emotions involved. At one point in my work, that was a true friend of mine…. I allowed my emotions to control me. However, it remained dominating. I demonstrated my abilities to the rest of the world." Following that, Covington called out Dustin Poirier, a former training partner whom he characterized to as "Louisiana swamp garbage." Covington stated that he plans to be "very busy" this year and hopes to fight again in July. Covington remarked, alluding to Poirier, "I'll see you soon." "You're next!" he said. Masvidal showed flashes of brilliance in the second round and knocked down Covington in the fourth. Covington, on the other hand, was in command for the majority of the bout. Covington took out his mouthpiece when the bell rang, stuck out his tongue at Masvidal, and kissed him.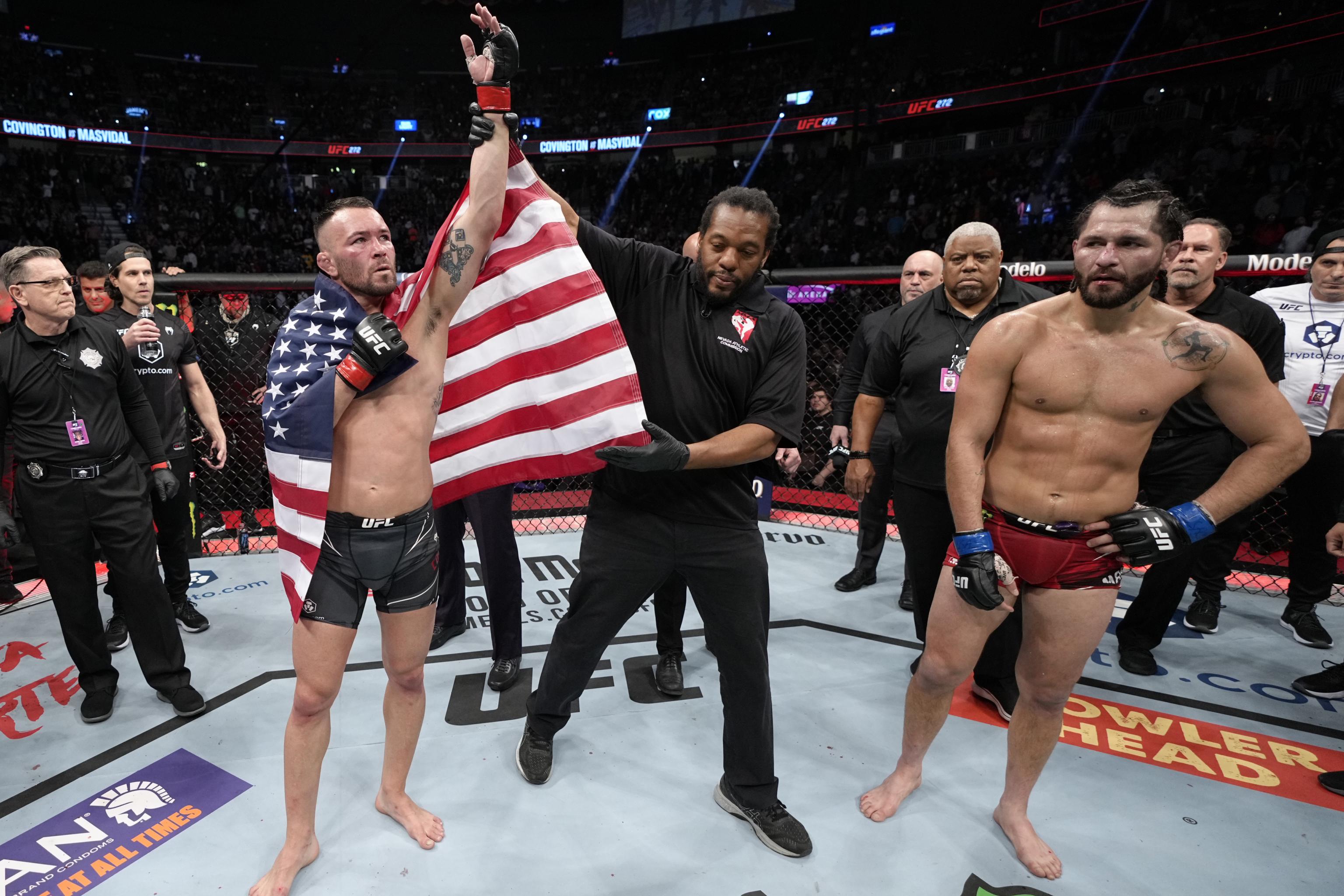 "I should have had more moments like that," Masvidal added, "but I was off today." "I wasn't in possession of it." The bout was advertised as one of the most bitter rivalries in UFC history, as well as an unusual non-title pay-per-view main event without Conor McGregor or Nate Diaz. The crowd was rooting for Masvidal to make a comeback. But there were also some "Colby!" yells. Masvidal and Covington were once great friends, roommates, and teammates. When Covington joined at American Top Team in 2011 following an excellent wrestling career at Oregon State, Masvidal served as a mentor to him. Masvidal assisted Covington with his wrestling talents, and Covington assisted Masvidal in teaching Covington how to strike. The two men are no longer able to stand each other. Covington feels Masvidal stabbed him in the back because he was jealous of his success. It wasn't about rankings or titles in this battle. It was all about making amends. Covington and Masvidal, on the other hand, are both excellent athletes. Both have fought for the UFC welterweight belt many times. Covington was ranked No. 4 in the world at welterweight by ESPN, while Masvidal was ranked No. 10 by ESPN.
Prelims
Lightweight: Jalin Turner(12-5) vs. Jamie Mullarkey(14-5)
Jalin Turner winner by KO/TKO · R2 00:46
Women Strawweight: Marina Rodriguez(16-1-2) vs. Yan Xiaonan(13-3)
Mariana Rodriguez winner by decision
Light Heavyweight: Nicolae Negumereanu(12-1) vs. Kennedy Nzechukwu(9-3)
Nicolae Negumereanu winner by decision
Women Flyweight: Maryna Moroz(11-3) vs. Mariya Agapova(10-3)
Maryna Moroz Winner by Submission · R2 03:27